Staying Safe With Gas and Carbon Monoxide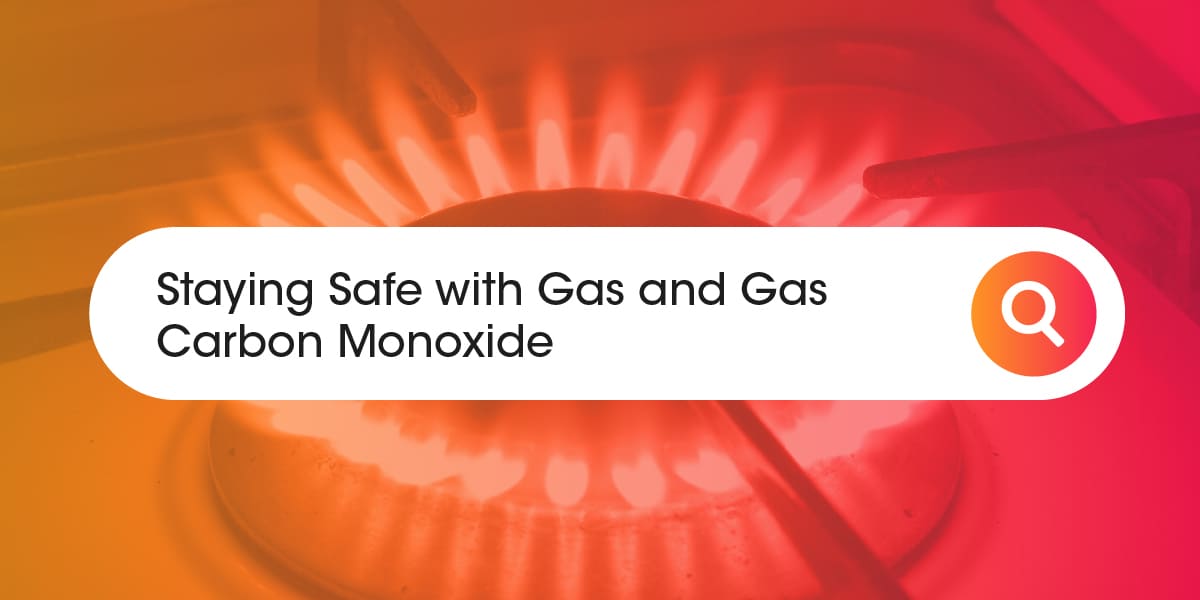 Staying safe with gas and carbon monoxide
Boilers do a good job at keeping your house warm. But sometimes when a boiler gets old or is poorly maintained, they can give off carbon monoxide gasses which can cause illness and even death. Likewise, gas pipes, cookers and boilers can leak as this is happening it increases the chances of a fire or explosion. To make sure this doesn't happen, we'll tell you how you can be staying safe with gas and carbon monoxide.
What is carbon monoxide poisoning?
Carbon monoxide is a toxic gas, and inhaling too much can lead to poisoning. If you do happen to inhale a large amount of carbon monoxide, you'll subsequently start to feel unwell and consequences may be fatal.
A high level of carbon monoxide is dangerous in any home. This is why it is vital to have your boiler serviced regularly and quickly repaired if damaged.
How does this occur?
Carbon monoxide starts to appear when fuels like oil, coal, wood and gas do not burn properly. This could be a result of your boiler not working efficiently anymore. There are other ways these danger can appear, mainly coming from having an old or badly maintained boiler.
How to spot carbon monoxide
The easiest way to detect a carbon monoxide leak is to have a carbon monoxide detector in your home. They work like a smoke detector and sound an alarm when the carbon monoxide levels are too high. You should still look out for other signs. That is no matter whether your boiler is new or old.
Despite it being difficult to detect carbon monoxide by seeing it or smelling it, there are some signs of its presence in your house. These can include gas flames burning in an orange colour instead of the blue colour it usually burns with.
There are a few symptoms of carbon monoxide poisoning:
Headaches
Nausea
Breathlessness
Loss of consciousness
Dizziness
If you think you could be suffering from carbon monoxide poisoning, make sure you can get outside into fresh air. Open all your doors and windows and turn off any gas appliances. Make your way to your doctor as soon as possible. They will be able to confirm or deny your symptoms as carbon monoxide poisoning.
Also, take note that if your coal or wood fire is struggling to stay ignited, the outcome could be carbon monoxide being present. This is a sign of there being less oxygen in the air. That makes fuels struggle to burn properly.
How to stay safe
As well as other potential carbon monoxide problems, gas appliances can also leak. This might be because they have become faulty as they have aged or from being maintained poorly. If this happens then the largest thing you need to worry about is a fire or an explosion.
It is important in a gas emergency to act as quick as possible and take these steps:
Get fresh air straight away. Open all doors and windows to ventilate the room.
Turn the appliance off and do not use again until it has been checked.
Turn your gas supply off at the mains and don't use any switches. Don't turn your gas back on until it has been deemed safe by a professional.
If you or someone else starts to feel ill then you should move to a position outside and go to a local GP or hospital and tell them your symptoms and that they might be related to carbon monoxide poisoning.
Contact a Gas Safe registered engineer to check and fix the appliance.
Carbon monoxide poisoning is a potentially fatal outcome of poor gas works and it can be difficult to notice without a carbon monoxide alarm.
Although the consequences of poor gas and carbon monoxide safety are serious, it helps to know that your boiler can be kept safe. The first thing can you do is get your boiler serviced by a qualified engineer. If they recommend upgrading to a new boiler then make sure you do. If a boiler is old, usually over 10 years old, or has not been serviced for a while, it may be the better option to upgrade boiler.