Ideal Vogue Max Combi Boiler Review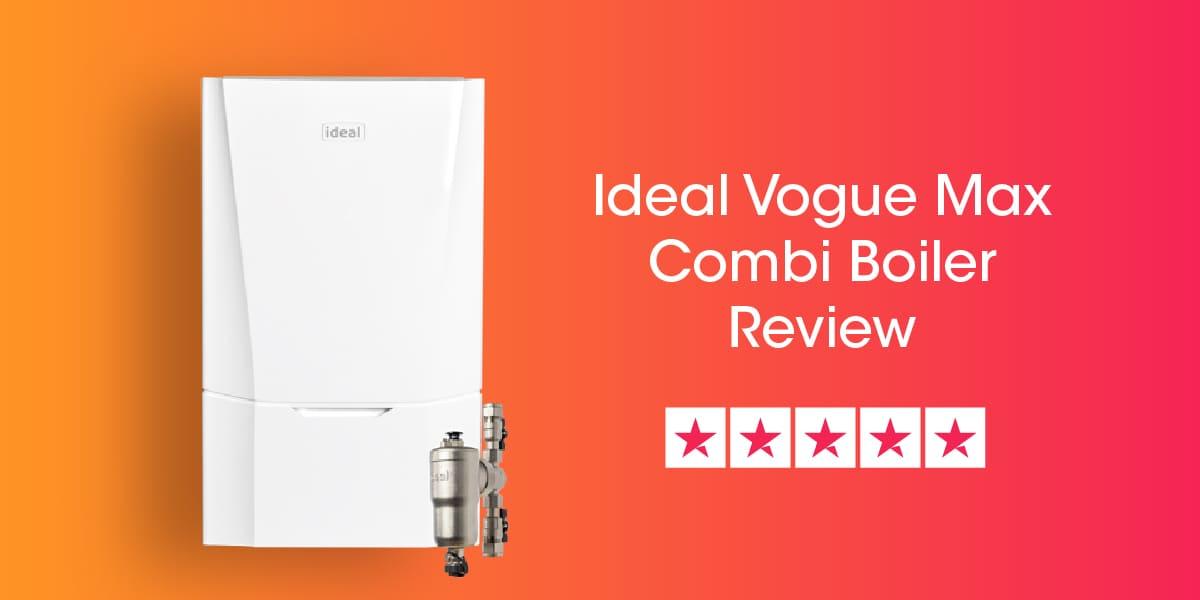 Ideal Vogue Max Combi Boiler Review
Will The Ideal Vogue Max Be Suitable For My Home?
This boiler is suitable for any medium to large home, it is a wall mounted condensing unit, it has a boiler range offering different power options for the amount of heating and hot water needed on demand.
For example:
26Kw- 1 to 3 bedrooms with 2 bathrooms.
32Kw – 4 bedrooms with 3 bathrooms.
40Kw – 4plus bedrooms and multiple bathrooms.
This reliable boiler is extremely efficient, the boiler has being rated A for both heating and water. Its efficiency rating sits at 93%.
Heating controls and ease of use:
This boiler comes with some top of the range technology such as: The Ideal Weather Compensation kit allows the boiler to measure the outside temperature, using this information it reduces the boiler water flow temperature.
Along with the Electronic Thermostat, this has a built in frost protection and wireless communication, with this you can connect it to an app on your mobile phone, Alexa and Google to change the temperature whether you are sat at work or laid on a beach.
You can also have a 7-day timed control of central heating which saves energy and reduces costs by operating at lower temperature.
Ideal have designed this unit to be very easy on the eye, built using premium components such as a full colour display showing easy text and graphics as well as full text support of fault modes which all allows you to have full control over your unit.
It has a simple to read pressure gauge and comes compatible with ideal controls.
This is fitted with a modern design that has an opening control cover and a rotary dial.
Size – How big is the Ideal Logic Max?
Each ideal vogue max combi boiler is a different size depending on which power model you go for, this boiler is not necessarily what we call a compact boiler.
You can decide on the flue, whether you would prefer the horizontal or vertical flue depending which works best for the location you would be placing it.
Best suited to what size home?
As said above this is suited to any size home with it having the different power options, can be wall mounted or stored in a kitchen cupboard and with it been an all in one heating and hot water system with no cylinder it takes up less space than other boilers such as the worcester bosch greenstar.
How long is the warranty?
This boiler has an amazing 10-year warranty but in the terms conditions can be increased to 12-years if installed and serviced by a Max accredited heating engineer. This is available when registered within 30 days of installation and if you have the boiler serviced annually.
This long warranty gives great peace of mind that you are buying top quality. It is also great to use a Gas Safe engineer that the manufacturers recommend as you know they will be registered and the job will be done safely and professionally.
How much does an Ideal Vogue Max boiler cost?
Ideal boiler are a known boiler brand for being energy saving. The cost of the max boilers are different depending on which Kw you go for.
The smaller boiler 26Kw costs around £1015, the medium boiler 32Kw costs around £1125 and the larger boiler 40 Kw costs around £1248.
Remember this boiler price does not include installation fees.
Installation fees can cost anything between £500- £1000.
Don't forget as said above "terms conditions can be increased to 12-years if installed and serviced by a Max accredited heating engineer."
Our verdict on a Ideal Vogue Max boiler:
We like the fact that this boiler has the higher or lower flow rate option (Kw) to suit every household. The warranty option also sells the boiler to be good quality, no company would offer an extra warranty option if they didn't believe the product would last that long.
Get a fixed price online now on an Ideal boiler at Boiler Central, the UK's fastest growing boiler company. Click here to get a fixed price now online