Best Boiler for a 2 Bedroom House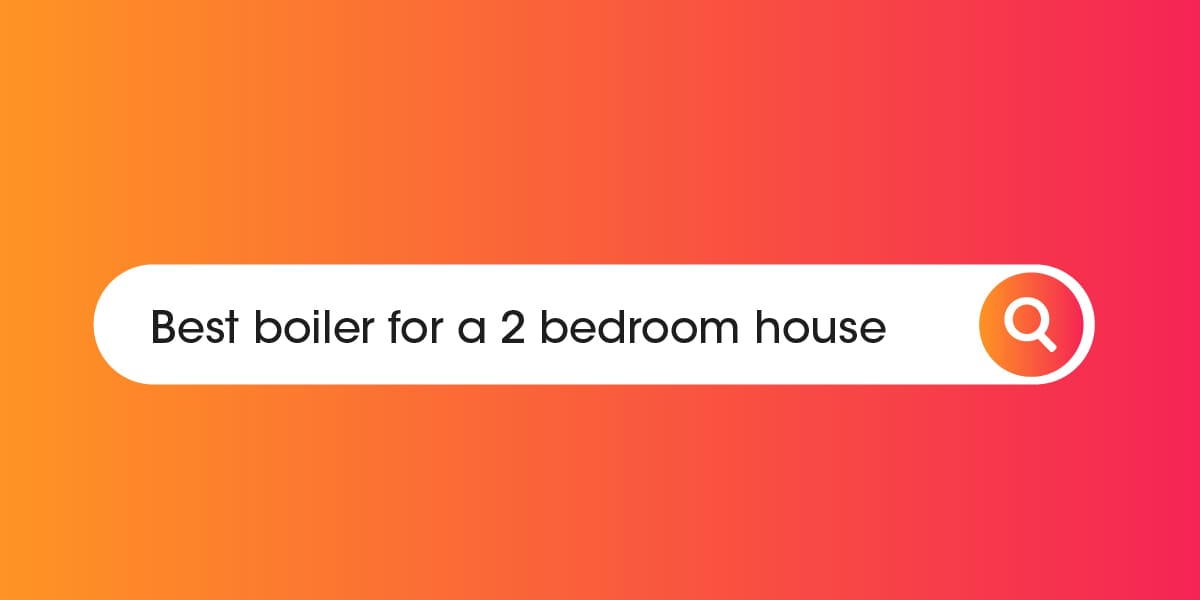 What is the Best Boiler for a 2 Bedroom House?
Boilers are not your thing but you need a new one before the cold winter months kick in?
We have lots of useful but simple information to help you decide on what boiler you need, don't worry we wont allow you to be cold or even worse not be able to have a hot shower or bath!!
A combi boiler also known as a combination boiler because of its dual action job of central heating and hot water could be the ideal boiler for you.
A combi boiler/ condensing boiler is small enough to go in a kitchen cupboard or to be wall hung, it is very cost effective and energy saving and is also very easily fitted.
There is no need for a hot water cylinder to be fitted in the loft either, saving you more space for clothes or toys!
Key tip though " always make sure your boiler is fitted with a Gas Safe registered engineer".
If you feel you don't like the sound of a combi boiler and this is not the type of boiler for you there is a system boiler or a heat only boiler which could also be an option for your 2 bedroom home.
We wont bore you with too much information but basically a system boiler produces hot water from a storage tank meaning you can have more hot water on demand than you can with a combi boiler and it directly produces heat for your central heating system.
A System Boiler works the same way as a Conventional Boiler also known as a Regular Boiler.
A Heat only Boiler also know as a Regular Gas Boiler which is usually found in a larger property but could be used in your traditional 2 bedroom home provides heat which is used as central heating and stores hot water in a cylinder, very similar to a Regular Boiler System.
Another main point to remember when needing a boiler for your home is the power output also known as boiler sizing and will have a number followed by KW. The number followed by KW could be in the boiler model title.
Very simple way to think about the power is: The smaller the property with less radiators and bathrooms the less power you need. The bigger the property with multiple bathrooms and larger amount of radiators the more power you will need.
A typical power output for a 2 bedroom property would be 25KW – 28KW.
Any larger than this would be larger energy bills and a waste of energy, any smaller than this would not have enough power to give you enough central heating and hot water for your 2 bedroom home.
In summary the below boilers are the best for a 2 bedroom home:
The below power ratings area guide for varying property sizes:
A 25KW – 28KW is typically the average size combi boiler you would need for a 2 bedroom house with 1 bathroom and 1 ensuite or an apartment/ flat with around 8 radiators.
36KW – 43KW: larger homes with anything above 20 radiators and 3 or more bathrooms.

The main things to think about when choosing a boiler is as follows:
Price, Installation Costs, Warranty, Size Dimensions, KW Options, Wall Mounting, Efficiency Rating and Flow Rate, Rated Boiler Manufacturers.
Price is often what we make our final decision on with everything but remember in most cases you get what you pay for.
You wouldn't go to Mcdonalds expecting a Michelin star meal therefore the cheaper boiler is not always the boiler which should win, take in to consideration the warranty.
Here is a few of our most rated combi boiler models for a 2 bedroom home:
Worcester Bosch Greenstar Compact – Great choice of boiler with an Efficiency A Rating and 10 years labour and parts warranty. As the name says "compact" so will fit in to a kitchen cupboard.
Ideal Logic Plus 30 – Another compact kitchen cupboard fit boiler, very reliable and well priced aswell as having easy to use controls and a 7 year warranty guarantee.
Worcester Bosch Greenstar Highflow Classic – Another 10 years labour and parts warranty and the difference is this boiler has more power, 20 Litres per minute, great for a home with 2 plus bedrooms. Still small and compact so very space saving.
Heatline Capriz 24C – This boiler is kinder on the eye, easy to install and lightweight. A very affordable boiler but offers a 2 year warranty.
Conclusion:
We have now provided you with some information and given you a few different options of top rated boiler brands for your 2 bedroom home have a think which you feel would suit you the best.
You can also find out what is the best boiler for a 3 bedroom home in our news section.
If you have any more queries or questions on which boiler would be best suited for you please fill in our contact form and somebody will contact you as soon as possible to help and advice you with the best boiler for your 2 bedroom home.