Vokera Easi Heat Combi Boiler Review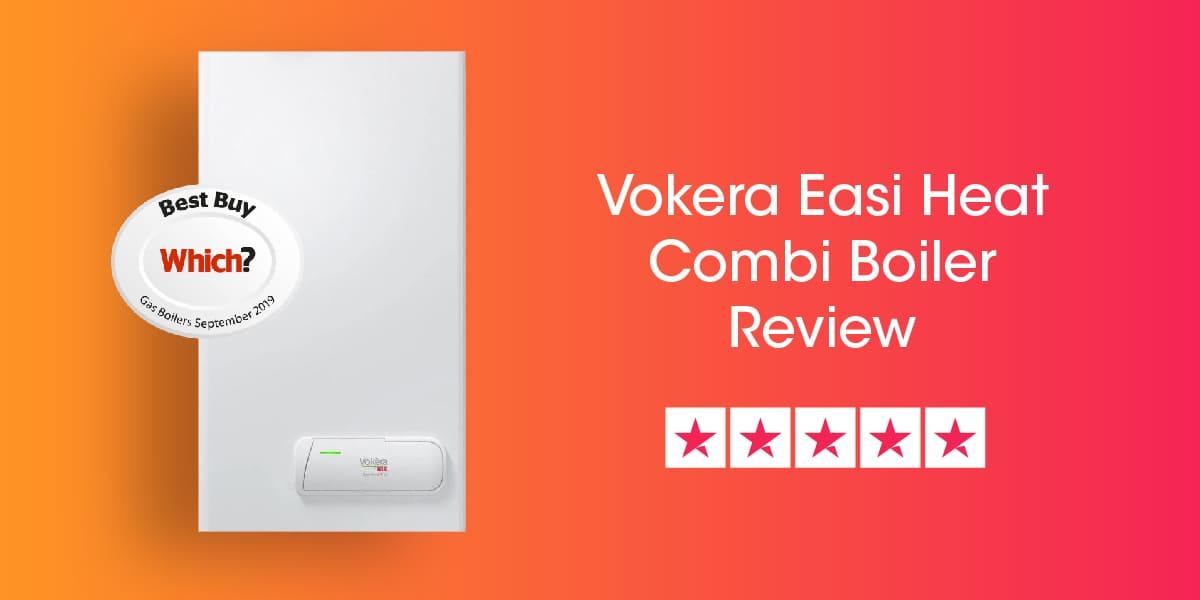 Vokera Easi Heat Combi Boiler Review
This is a comprehensive guide for buyers searching for a new central heating system.
This Vokera Easi Heat combi boiler review will help you decide whether or not this product is suitable for your home.
Will the Vokera Easi Heat combi boiler be suitable for my home?
Vokera's Easi Heat combi boiler comes in two sizes: 25C and 29C.
The smaller model is ideal for 1-2 bedroom properties with a single bathroom, while the larger unit is designed for 2-4 bedroom properties with a bathroom and shower room.
Both models are sleek and compact combi system, making them easy to store.
This unit will fit inside a standard kitchen cupboard.
If you own an apartment or a small house, the 25C Easi Heat combi boiler should fulfil your requirements.
If you have a larger property, or you have children or parents living with you, the 29C is a better option for more heating and hot water.
Heating controls
When you own a property, it's incredibly useful to be able to operate your boiler and to make sure any issues can be resolved quickly.
The Vokera Easi Heat combi boiler is simple to use, and it features a built-in mechanical clock.
This boiler also has a hot water survivor function, which facilitates hot water supplies if the thermostat fails, and it has been designed with convenience in mind.
Once the unit has been installed by a heating engineer, minimal adjustments are needed.
Size: How big is the Vokera Easi Heat combi boiler?
This is a boiler that is ideally suited to homeowners looking for a compact unit they can store easily.
Measuring 795mm (H) x 405mm (W) x 248mm (D), this boiler fits comfortably inside a standard kitchen cupboard.
Who is the Vokera Easi Heat combi boiler best suited to?
The Vokera Easi Heat combi boiler is suitable for a wide range of homeowners.
The 25C model is ideal for smaller houses and apartments with one bathroom, while the 29C unit is suitable for larger homes with higher demand for hot water.
If you have a 1-2 bedroom property with 1 bathroom, the Vokera Easi Heat 25C boiler may be worth adding to your short-list.
If you have more than 2 people living in your house, you have more than one bathroom, and you use a substantial amount of hot water,the boiler installers would say the 29C is likely to be a better option.
How long is the warranty on the Vokera Easi Heat combi boiler?
It's really useful to spend time comparing boilers before you decide which make and model to buy or whether you would prefer a system boiler, regular boiler or combi boiler.
One important factor to bear in mind is the warranty on offer.
Some boilers, which tend to be at the cheaper end of the spectrum, come with 2-3 year warranties, while others have warranties that last 7-10 years.
The Vokera Easi Heat combi boiler has a 5 year warranty.
It's essential to read the terms and conditions of the warranty before buying, as some manufacturers provide more comprehensive warranties than others.
Energy efficiency
New boilers are designed to be as eco-friendly and energy-efficient as possible.
The Vokera Easi Heat combi boiler has an A rating for efficiency.
Buying an energy-efficient boiler will help you to reduce energy bills.
How much does a Vokera Easi Heat combi boiler cost?
The price of a new boiler plays an integral role in helping buyers to decide which make and model to buy.
As a customer, it's wise to focus on value for money, rather than trying to find the lowest priced boiler.
Buying a high-quality boiler with an extended warranty can save you a substantial amount of money in the long-term.
Vokera boilers tend to be a little cheaper than other leading brands, but there are differences in warranties, and some customers may prefer to opt for premium names that have exceptional ratings.
The cost of the Vokera Easi heat boiler depends on the size and the installation company.
Typically, but not a fixed price the RRP for the 29C model is around £510 (including VAT and excluding installation).
If you are buying a new boiler, and you plan to have it installed, it's worth ringing around local, reputable firms and getting some quotes.
Summary
The Vokera Easi Heat combi boiler is a competitively-priced combi boiler, which is suitable for homeowners looking for a compact, energy-efficient unit.
The 5-year warranty is not as comprehensive as other brands, which might make buyers think twice about buying this boiler, but it is better than some boilers, which come with a 2 or 3-year warranty.
Budget is a factor for most buyers, and there is no doubt that this is one of the more affordable modern combi boilers on the market.
Get a fixed price online now on a Vokera boiler at  the UK's fastest growing boiler company. Click here to get a fixed price now online