In this article we look at what you need to think about when buying a new boiler…
Things To Think About When Buying A Boiler
Boiler installations can be very complicated and expensive.
It is important you have all the information before making any decisions regarding buying a new boiler.
Here are things to think about when buying a boiler.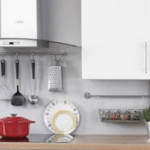 What To Think About When Buying A Boiler
The more reliable your boiler is then the less unexpected costs you are likely to need on expensive repairs.
We recommend doing research on the experience boiler owners have had with certain boiler manufacturers so that you will have a good understanding of which brands you can trust.
Do not risk being left with cold showers and a cold home by going for the cheapest boiler you can find because this means it could be lower quality and lower manufacturing standards.
What Type Of Boiler Will Suit Your House
Most UK homes have mains gas, and there are three main types of gas condensing boilers to pick from:
Combi boiler- These heat water on demand and do not require a separate storage tank. These are better suited to small or medium sized properties, combi boilers are the most popular type of boiler in the UK as they are compact and very easy to install.
Conventional boiler- These are also referred to as heat only, they require a hot water tank or cylinder. This is where hot water is stored for later use. If you have a larger home with an even higher demand for hot water or more than one bathroom. A conventional boiler could be the best option. They do tend to be more expensive to install however and they do take up much more space.
Systems boiler- This is a more efficient alternative to a conventional boiler for a house which may require a stored water cylinder. With more components actually installed, system boilers are a lot easier to install than a conventional boiler. And take up less space. They also feed hot water to many outlets at the same time. This means they are ideal for larger homes with higher demands.
A New Efficient Boiler Might Benefit You In More Than One Way
If you have an old model boiler, that is over 15 years old, then replacing it with a much more modern gas-condensing boiler could help you save money on the energy bill.
Heating makes up for around 60% of the yearly energy bills.
So having an efficient boiler is really important. All new boilers are condensing.
Meaning they have a large heat exchanger to recover more heat from hot gases.
Sometimes the flue gases can get so cold that the water vapour in the gas condenses out, this means even more energy is recovered.
New Boiler From Compare Boiler Quotes
Here at Compare Boiler Quotes, we have a network of expert boiler installers who have been installing new boilers and replacement boilers for many years so, you can be assured all work carried out by our Gas Safe heating engineers is done safely and efficiently.
When investing in a new energy efficient boiler you want to make sure you make the right choice and get the best deal on your new boiler.
Choosing a new boiler with us means you will have a wide range of options available to you with different payment options to choose from.
Whether you choose to buy your new boiler outright or buy boilers on finance we will always make sure you get the best deal with packages tailored for you.
For more information on our boiler prices or to request a quote please get in touch.