Should You Turn Your Boiler Off At Night?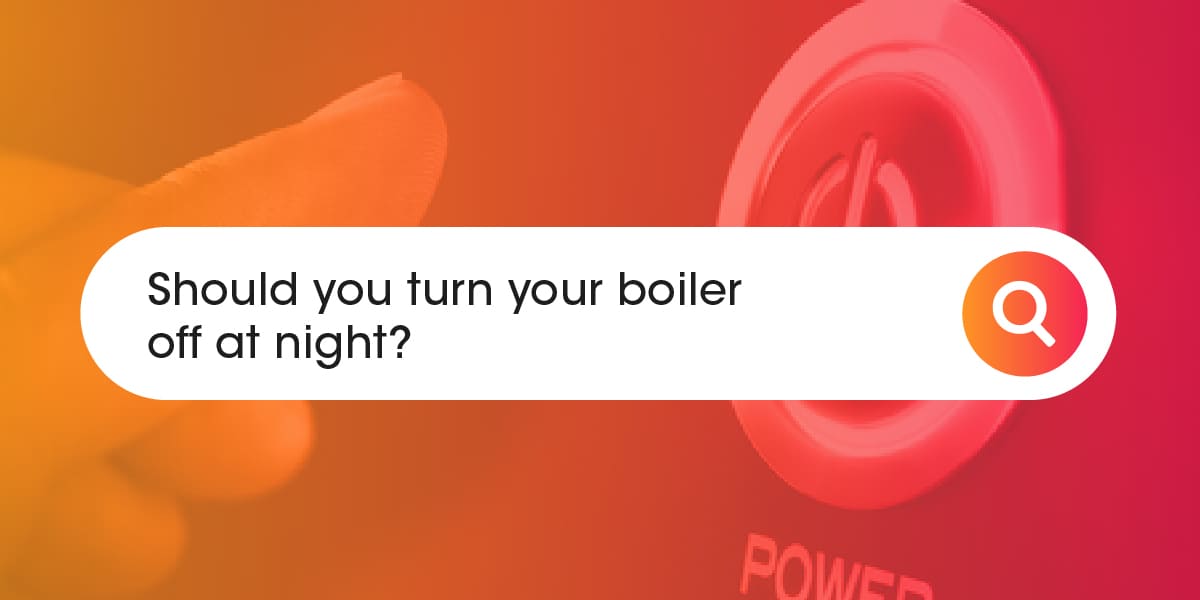 Should You Turn Your Boiler Off At Night?
A strangely familiar question that keeps cropping up in an attempt to save money by homeowners is turning their boiler off. Although this not recommended, it can be dependent on the type of boiler you have.
If you have a really old uneconomical boiler then it is not necessarily bad thinking during the summer months.
Turning off any modern boiler on the other hand it is completely unnecessary.
Modern new boiler replacements do not use any gas whilst they are not required.
They only use gas on demand.
For most people, saving money on their bills is a priority so it may be a good idea to get some expert advice from a Gas Safe registered engineer on getting the best out of your boiler.
So should you actually turn your boiler off at night?
If you do decide to turn your boiler off at night, then it might actually be the less efficient option.
Turning your boiler off at night would mean that you have to turn it back on every morning, something which takes time and effort when you are half asleep and freezing cold.
For the little amount of fuel your boiler might use extra being turned on, it saves this extra hassle when getting ready for work or looking after the children is a priority.
One major flaw in this plan is that a boiler firing itself back up every morning tends to use a higher amount of energy than just leaving it on overnight.
If one of the main concerns regards cost is how much your boiler uses when not actually in use at the taps or for the central heating then it may be time to consider a new boiler.
There is a whole range of boilers made specifically for saving customers money on their gas bills. There has even been a huge government initiative to get people to install up to date super-efficient boilers.
What to do instead of turning your boiler off

Use Your Thermostat
If you have a tankless heating system or combi boiler then the best thing to do is use your thermostat. Your thermostat is usually a small box or remote control which you can use to control when your boiler turns itself on or off.
It measures the temperature of the room it is in and sends a signal to the boiler letting it know whether it is needed to heat up to increase the temperature in the house or turn off to decrease the temperature.
Instead of turning your boiler off every night one option to help save energy and might be even more efficient is to use your thermostat and to set your temperature lower if you don't need as much heat.
If you set your thermostat at a lower temperature then your boiler will usually only start itself up when the temperature drops to that specific level.
So if you think 20 degrees is widely regarded as 'room temperature' but you can cope with 18 degrees and put a hooded jumper on or a small blanket just to try and save that bit of extra cash then there is always that option. 
There's no answer as to whether your boiler is best being turned on or off overnight, however, there are advantages and disadvantages of this so it depends on preference and what you're comfortable with.
Keep you Windows & Doors Closed at night
This simple but effective solution will save you money on your gas bills.
People often spend a lot of money on double glazing and top of the range PVC windows and doors but forget to keep them shut at the right times.
A well insulated house is not going be effective if windows and doors are left open at the wrong times. You might buy a boiler at a good price but you need to ensure you are as energy efficient as possible.
Decrease the likelihood of having to use your boiler by keeping on top of this simple task. It's great for stopping burglars too!
Insulate any Hot Water Tanks
If you have a system boiler or a regular boiler you will have a hot water tank either in your loft or the airing cupboard.
These types of boilers heat up hot water which is stored in a big tank ready and waiting for when you need it. As the water is stored it starts to cool down.
This is where proper insulation comes into play.
By properly wrapping your boiler in good quality insulation, and plenty of it it will slow down the cooling process, stopping your boiler from kicking in and heating up the water again. 
Insulation is relatively cheap in comparison to what your boiler may use over a year if it wasn't insulated and is less expensive than the new boiler cost you'd have to pay for a new boiler. 
Will turning my boiler off cause problems with my boiler? 
Boilers are clearly made to be turned on and off, it's why the button is there.
Boiler companies on the other hand don't really expect boilers to be turned on and off frequently so it's probably not high on their list of priorities when taking into consideration reliability.
Stopping and starting a boiler that is meant to be left on, which is the expectation these days could cause problems. We're not saying it will but using logic it may not be the best course of action.
Will my older boiler be able to be turned off at night?
If you have an older boiler, it might be more temperamental than the newer models.
Stopping and starting an older boiler could do more harm than good, especially in extreme cases where you're worried if you turn it off, it may not even start back up again leaving you with no heating at all.
Turning it on and off or turning it off for longer can cause issues with your valves and pumps as they might seize up.
To prevent your boiler breaking down, we recommend that you get an annual boiler service.
Worried about your pipes freezing in winter?
It is common knowledge that water freezes at 0 degrees Celsius or 32 degrees Fahrenheit. The temperature in the UK during winter months always drops below this level.
This means that any water in your central heating pipes is at risk of freezing.
When water freezes it expands, and if the water has nowhere to expand into, like in a central heating system, it will cause damage to pipes and in worst-case scenarios, your boiler.
Most boilers have a winter setting.
This basically means that your boiler will make sure that the water in your pipes is flowing and that the temperature of the water will not drop below zero.
This protects your pipes from cracking and your boiler from breaking down.
This can only happen if your boiler is switched on!
This is something you should check in your user manual and it is in invaluable feature to ensure you don't have to pay for any break downs during the winter months.
Do you need a boiler that turns itself on & off?
Think you need a boiler that turns itself on and off when required, and if after reading this you think that your boiler is more of an issue than it needs to be it may be time to get a new boiler.
Here at Compare Boiler Quotes we compare the best top of the range energy efficient boilers in the UK to help you save money.
We compare boilers from the best manufacturers such as Viessmann boilers, Worcester Bosch boilers, Baxi boilers & Vaillant boilers.
There are many different ways to pay for your boiler if you don't have the money right now.
With boiler finance options where you can pay monthly for your boiler, you can get the best boiler for your home right away and spread the cost over a number of years.
All you need to do is set up a payment plan through a credit agreement with one of the boiler companies we recommend and you are away and saving money with a boiler that turns itself on and off when required.
Most of our sales are for new boilers on finance