How Long Does it Take to Fit a New Boiler? Within Hours!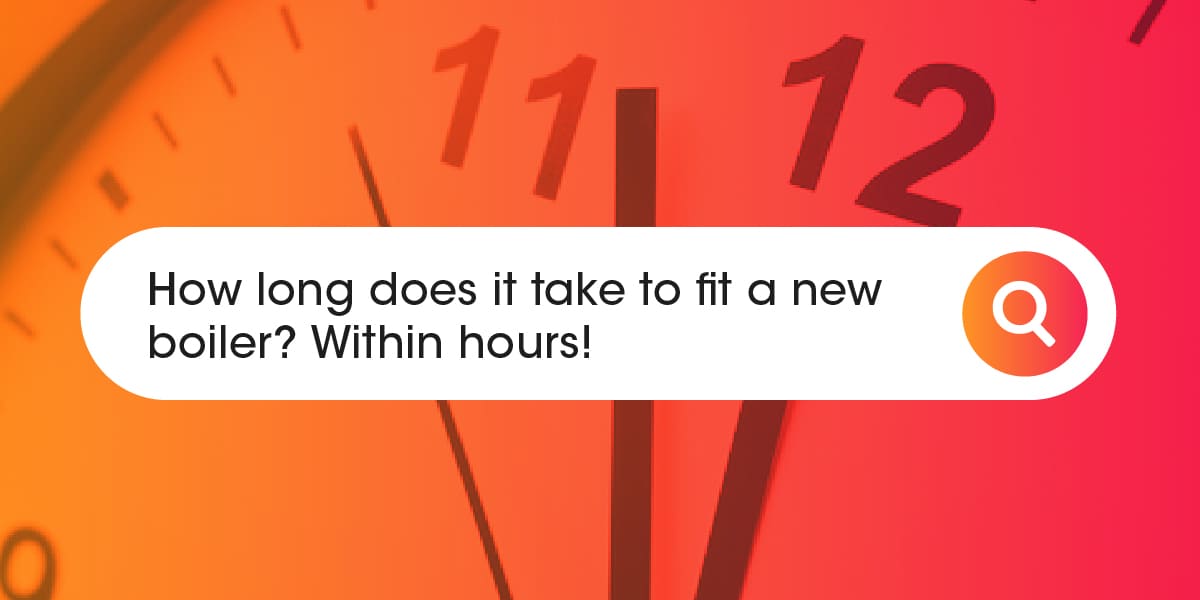 Find out how long it will take to install a new boiler in your home.
We look at the most common types of boiler installation to tell you.
It takes 2 hours 34 minutes… is what we would ideally like to say. But there is no set time.
Anyone with a bit of knowledge of anything that needs 'installing' knows that it is completely dependant on what you already have.
Let's take a look at what time frame installing energy efficient boiler will be in various situations.
If you were born in the computing world for example its vaguely like installing new software on a laptop, everyone has a different type of laptop and everyone's works differently.
For example if you have an antique laptop running Windows 95, you are probably going to need a new laptop altogether.
For examples sake, a new laptop may take a few days delivery in the post, but once you get it, you wish you had done it earlier.
On the other hand, if you already have a relatively new lap top and looking to upgrade the system, it may just take a few hours!
All in all you get the idea, but we will try and give you idea of the most common problems and other gas boiler installation situations!
Already have a combi boiler? Want another combi boiler? No problems here – up to 6 hours installation time.
There is nothing easier than what's known in the trade as a "combi swap".
This is where you already have a combi boiler (one which provides heating and hot water without a tank) which is to be replaced by another combi boiler in the same place.
These range of boiler are a heating engineers dream job. Quick and easy, take your money and run kinda job.
Maybe not in such a criminal sounding way but the job is almost a steal to the installer as it's the quickest job possible, barring any surprises.
If the plumber has done his due diligence then there shouldn't be any. This is the smoothest ride you could have, and if your unlucky enough to need a new boiler, and this sounds like you, then you may be in for an easier ride than you first thought.
We are almost forgetting the biggest bonus, if there is one to boiler breakdowns, this is the cheapest option.
Want to install your combi boiler elsewhere?
Got a combi boiler but want to move it elsewhere? This will definitely be a full day job.
Possibly 1 and a half days depending on where you want it moving to.
If you want it moving your probably fully aware it is going to take longer and cost more but we're sure you've got good reason to.
If you need to move it then you are looking at adding between £200 to move to another room and £500 to move into a loft or attic space.
It's all in the extra work required for the length of pipework winding round your humble abode.
If your existing boiler is unsafe, or illegally installed and doesn't meet regulations then it may have to be moved.
If this is the case then it may be best to do it as if you come to selling your home you will have to sort it.
No one really wants the stress and cost of a new boiler coupled up with moving house.
Moving house is renowned to be stressful, boiler breakdown isn't far off.
If you are looking at a "combi swap" there are some unbelievable deals available all over the internet.
If you don't have the cash either there is also the "boilers on finance" option.
heck out some of the best prices for combi swaps here. You can also spread the cost from as little as £9.95 per month!
Got a boiler with a tank? Want a compact combi boiler? You are looking at a conversion within 2 days.
A boiler with a tank, system boiler or regular boiler are all pretty much the same thing.
If you are lucky enough to own a larger house with more bedrooms and bathrooms than most then chances are you will have one of a boiler with a tank.
Due to the size and space the tank takes up it is understandable that people may want to take advantage of the combination boilers compact size.
Hey, if you loose the tank you gain a cupboard, or walk in wardrobe as it could be called once removed.
Combi boilers have come a long long way in recent years and can provide even larger homes with direct instant heat to taps at separate outlets at once.
Due to the work involved in removing the tanks, changing the whole system and piping where the boiler is, it's going to be a bigger job!
The first day will probably be spent removing and sorting pipework from your central heating system out ready for the boiler to be installed and tested on the 2nd day.
You may want to book a day or night away for this if you can. Unless all your money is going on your new boiler, as you may be without hot water for a day or so.
Want to convert your system boiler to a combi boiler, and move it? 2 and a half days should cover it.
As said above a boiler move is going to cost between £200 and £500. It's also going to take longer than expected.
If you're looking at moving your boiler, be sure its where you want it as you don't want to be moving it again in the future.
Make sure you take into consideration where the flue pipe will go.
It can go through the roof or out the wall, so no internal rooms ideally.
It can be done, but you are talking serious mess and cost.
No one wants a pipe running along their living room roof.
Unless your going for the industrial look…
Looking to convert your boiler from a system boiler?
Get the best prices and boilers on finance here. We compare the best prices on the internet with the experienced installers to get your boiler installed as quickly as possible.
We look at the fantastic Worcester Bosch range and other great boiler brands.
How do I speed up my boiler installation time? 
There are a few steps you can take to ensure that your boiler is on your wall quicker and faster paint drying.
The first step is to ensure you get your boiler quote quickly.
We compare them here so you can pick 3 quick ones in no time.
Also you must make sure you use a recommended, trusted and Gas Safe registered boiler company or installer.
Most boiler installers rely on their good work and top reviews to help them get more work.
Do your homework, it will help you get your hot baths and cosy nights in up and running in no time.
The second step is to ensure you provide the installers with as much information as possible, prior to and during your boiler survey.
Some will ask for pictures if possible, as something that looks fine to us none plumbing folk may look like a disaster to someone who knows what they are doing!
Things like piping, flue positioning (location to windows), gas meter location, condensate waste and the electrics are all things that need to be assessed beforehand.
If you don't know what any of them are, your engineer will.
All work by an engineer should be agreed by yourself beforehand. If you want to check that they are also Gas Safe registered, you can either check online or ask for their certificate which they have to produce.
All these things take time and effort which can be frustrating when trying to get your central heating and home back up and running.
Try to get as many quotes as possible to get the best prices.
We can get you 3 here at www.compareboilerquotes.co.uk in no time.
You can choose who you want, but be sure they will be quick and reliable to make sure you get the best boilers for less.