Central heating installation cost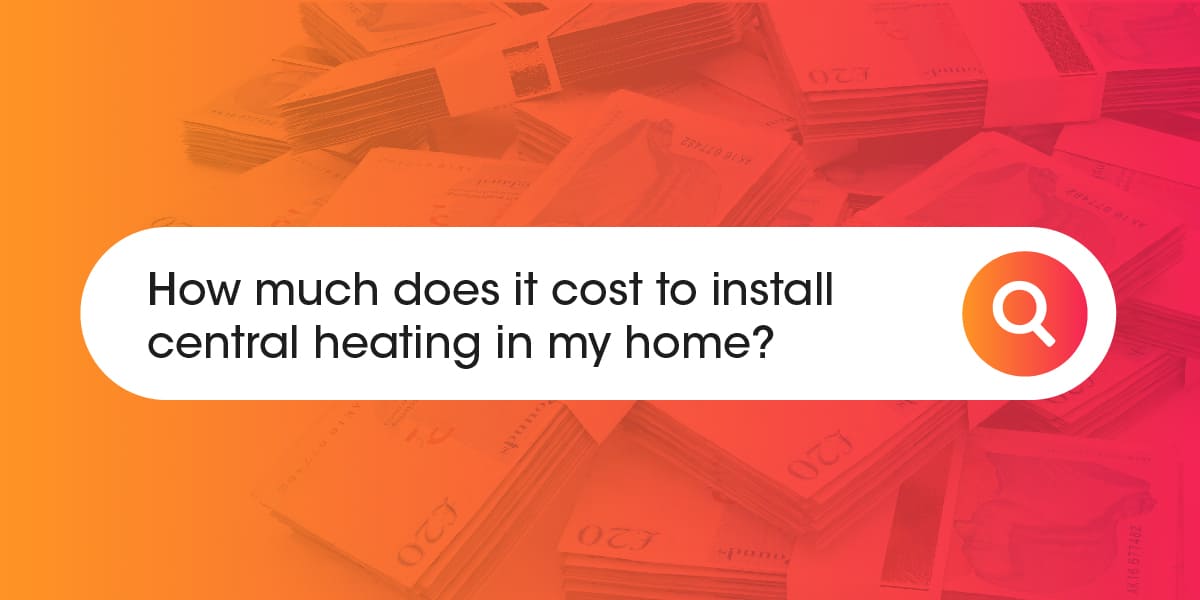 The cost of installing central heating in your home
How much does central heating cost? This question is probably one of the most common questions that we have when we're thinking of installing a new central heating system.
Click here to get the lowest price on a new boiler in 20 seconds online
The problem is that there isn't a straightforward answer to that question…
There are so many variables between properties that even installing the same new boiler in two different homes is likely to result in a different installation cost.
But, that all said, we can still provide you with some guidelines that will help you to understand what the different components are that contribute to boiler installation costs.
So, depending on the size of your property and the complexity of the installation, you can expect to pay between £2,500 and £4,500.
What is the cost of installing central heating?
As we've already mentioned, one of the reasons for not being able to give a definitive answer to how much does central heating cost is because there are so many different factors to consider.
So, let's kick off by having a look at those first.
Types of boilers
The boiler type that you currently have and the type for the new central heating system will impact the cost.
If for example you currently have a system boiler and you want to change to a combi boiler, then that's going to involve more work than a straight swap for a new system boiler heating solution.
If you're not sure which boiler you currently have or which one to go for, here's our quick guide.
Click here to get the lowest price on a new boiler in 20 seconds online
Combination boiler
The combi boiler is the most popular heating solution in the UK and it's easy to see why that's the case.
Hot water is provided on demand, so that means there's no need for a hot water cylinder or a water tank. That suddenly frees up space which is so often in high demand in our homes.
With combi boilers, there's also no worry about the hot water running out because it's heated when you turn on the hot water tap. But, if you need hot water to two taps at the same time, then the combi boiler may struggle to provide that for you.
Even the combi boiler has seen big increases in efficiency levels meaning lower energy bills. So, that means that a new boiler could easily save you the central heating installation cost across its lifetime!
Regular boiler
The regular boiler is also sometimes called a conventional boiler. That's because it used to be the most common type of central heating system. You'll know that you have a regular boiler when you can see a cold water storage tank up in your loft and a hot water cylinder to store the water once heated.
Now while that means a lot of extra hardware, the regular boiler is able to provide high quantities of hot water all around the house and heating for all the rooms. So, a property with several bathrooms or a home for a big family might find that they need something like this to cope with their hot water requirements.
If you currently have a regular boiler, then the simplest solution for a new central heating solution is to replace it with one of exactly the same type, another regular boiler.
System boiler
System boilers sit between the combi boiler and the regular central heating system. That's because it does need a hot water cylinder, but it pulls the cold water supply directly from the mains. This then means that there's no need for an additional tank to store the water in.
With this boiler, you're getting all the advantages of the regular boiler but without having to lose your loft space. Like the regular boiler, it provides high volumes of hot water to multiple outlets, but it also can run out and then you'll need to wait for the next cylinder of water to be heated.
If you currently have this system boiler, then again, the simplest solution is to replace it with one of the same types. However, with not needing to remove the water storage tank, then swapping over to a combi boiler could also be a viable option.
Central heating fuel types & costs
The gas boiler is the most common in the UK, however, that doesn't mean to say that you can't have your choice of the central heating system if you're not able to get mains gas.
Many gas boilers can be connected to LPG or can be converted to do so. Then there's the option of an electric boiler and storage heaters.
Do be aware, though, that an electric boiler is generally more expensive to run than other fuels such as gas. However, central heating systems that make use of storage heaters do offer the opportunity to make the most of low-cost electricity tariffs.
Central heating costs for different home types
Not too surprisingly, the size of your home and whether it's a one-bed apartment or a four-bed house will be a major influence on central heating installation costs.
That is because firstly, the number of bedrooms will influence how many radiators are needed. Then, the size of the property will also decide how much pipework will be needed to connect the radiators to the heating system.
So, we've put our heads together and with our years of experience in central heating installation, we are able to provide you with these guide prices. Don't forget though, to keep reading to find out what may cause these prices to either increase or decrease for your heating system.
Central heating cost for a 3-bed bungalow – £2,300
For a one-bedroom house, the number of radiators needed is going to be quite low. In fact, just five radiators will usually be enough to provide sufficient heating for each of the rooms.
In terms of the boiler then it's likely that a 24kW central heating system will provide enough power output to meet the home's needs.
Central heating cost for a 3-bed house – £3,500
When you move up to a three-bedroom home, then you'll need around nine radiators for the home heating system to keep everywhere warm.
When it comes to the power output needed, then a 28kW boiler is likely to be a good match.
Central heating cost for a 5-bed house – £4,500
For the larger five-bed house, then not too surprisingly the number of radiators needs to go up and generally 12 is the recommended number.
However, if you have lots of other rooms besides the bedroom or hallways that need heating, then this number may have to go up.
Then thinking about the power output, a 33kW boiler is probably the minimum needed. Again this depends on the scale of the property.
If the rooms are smaller and the hot water doesn't need to travel far, then you can get away with lower power output. For large properties where the hot water has to travel a long distance, then you're going to need a higher output.
What's involved in a central heating installation?
So let's now take a look at what's involved in getting your central heating system installed.
Boiler
Boilers do vary enormously in cost, depending on the power output, the manufacturer and the functionality that they provide. Worcester Bosch boiler prices, for example, may be higher than a budget boiler manufacturer.
Do remember to check the efficiency level of a boiler before making your purchase.
That's because this is what will make a big difference to both your heating bills and the impact that your central heating has on the environment.
New radiators
Gone are the days of the plain white radiator being the only choice available to the customer. There's now a huge range of designs to choose from and whether you prefer modern or traditional there will be a style that fits perfectly into your home.
Do consider that the number of new radiators that you decide upon will impact on the size of boiler that's needed to be able to supply them all with hot water.
Thermostatic radiator valves
If your budget is tight, you might be tempted to leave thermostatic radiator valves off your shopping list. But, the benefits can really make this extra expense worth reconsidering.
Thermostatic radiator valves or TRV as they're often known, are able to automatically adjust the amount of hot water that enters a radiator. This means that you have greater control over the heating in each room of your home. And, in turn, that can mean high levels of efficiency because you're no longer heating rooms that you're not in so often to the same temperature as one you spend a lot of time in, such as your living room.
Pipework
If you already have central heating then it may be that the copper pipework doesn't need to be replaced. But if you've had a leak or it's very old, then getting it replaced while having the central heating installation taking place, could be a good option.
If you're changing the type of boiler in your home, then there may be a need for new piping that can cope with an increased level of hot water pressure.
Water tanks
So, though not a requirement for system or combi boilers, a water tank will be needed if you're having a regular boiler installed.
Heating controls
If there's an element of the central heating system that's changed enormously in recent years, then it has to be the way in which you control the heating. Though simple dial systems are still available, the combination of smart heating controls and new technology has made a huge difference to convenience, efficiency, and cost-saving opportunities.
Imagine having your heating controls on your phone. Suddenly you have to work late, well now there's no need to worry about the timer kicking in and your boiler heating an empty house. Simply turn to the app and change the time that the heating comes on.
How about going out and then realising that the heating is still on? Worry no more because now the technology in your heating controls can recognise that there's no-one at home and it'll turn off without you needing to do a thing.
What will increase the cost of central heating?
There are some situations which are known to increase the cost of installing central heating. These include:
Moving radiators
If you want the radiator taken out of the hall and out into the bedroom, then there's going to be a cost associated with that
Installing central heating boiler in a different location
Many boilers are located in the kitchen, but if you're desperate for that space then you might be tempted to move it to somewhere else in the home.
That's going to take up the time of your gas safe heating engineers and there might also be costs associated with connecting the gas supply in a new location along with new pipework.
Changing the type of flue
When anything is moved or changed it requires the skills of heating engineers. So, changing the flue is going to take up their time with drilling to situate the new flue, along with making good the previous flue location.
Changing the boiler type
We've already mentioned the different types of boilers and the situations to which they're best suited. But there can still be a case for making a change to a new heating type even though there will be additional installation costs.
This might be when children grow up and leave home. Now Mum and Dad have a much-reduced need for hot water and their old system or regular boiler is heating up way more water than they need.
So, you can see that the cost of changing to a new central heating system such as a high-efficiency combination boiler could, in the long term, offset the new central heating installation cost.
How much mess is there to install central heating?
If the prospect of a messy house is putting you off from getting a new central heating installation, well we have to be honest and say that there will be a few days of having to work around the heating engineers while they're on site.
But this is one of those situations where having all your planning and decisions made in advance will make it a much smoother process.
Things to think about:
The type of heating control
Where radiators should go
Where the boiler is to be located
Any upgrade required of the gas supply
Planning permission may be needed in some parts of the UK
This all means that once the boiler engineers are on-site, they'll be able to get straight on with the installation. And if there's one thing that a heating engineer appreciates, it's a customer who has done their planning and knows what they want!
Could I do the installation myself?
One of the most expensive parts of having a new central heating system installed is the installation itself.
Now there might be elements that you can do yourself if you're confident about your DIY skills, so that might be installing radiators and pipework.
However, If you're tempted to cut corners and do the full central heating installation yourself, stop right there! It's illegal for a non-qualified person to begin tampering with a mains gas supply.
For the safety of you and your family, it should only be a gas safe approved installer who works on a gas boiler.
It's also important to know that if the person who installs your boiler isn't gas safe registered, then the boiler manufacturer warranty will also be voided.
Central heating installation cost: Overview
As you've seen it's tough to be able to give you a definitive cost to install a central heating system when it can vary depending on your needs, your home and what's already in place.
That means that the best way to progress is to get new boiler quotes based on your needs and your home.
Don't forget to get quotes that not only include the new boiler cost, but also the cost of installation.
That way you'll know that everything you need from the heating engineer to the cost of the room thermostats is all included.