Main Boiler Review: Are Main Boilers any Good?

Main Boilers Review – Are They Any Good?
Welcome to another boiler manufacturer review by Compare Boiler Quotes – This time it's Main Boilers, who are part of the Baxi Group.
Here, we go through all the top boiler manufacturers and rate them on quality, performance, reliability, installation, warranty, and maintenance. 
In today's article, we are going to look at Main Heating's boilers. Are main boilers any good? What is their range? What types of warranty do they offer? Well, today we will answer all these pertinent questions.
Who is Main Heating?
Main heating is a part of the Baxi Heating Group. You may recognise this as in our other articles we list the other companies in the group. 
Baxi heating has within its group some of the best-known boiler manufacturer brands in the world. Brands such as Baxi, Potterton, Sadia, Megaflow, Andrews, and more. 
Serving the UK and Ireland, Baxi Heating is a well-known UK brand with a pedigree going back decades. 
According to its website, Baxi aims to deliver the best value through reliable and energy efficient boilers. They do all this with excellent service and technical support. 
They are also guardians of the environment, by promoting social and economic sustainability. 
Baxi Heating is also part of BDR Thermea Group. Founded in 2009, BDR Thermea Group is a world-leading manufacturer and distributor of smart thermal comfort solutions for domestic and commercial use. 
BDR Thermea Group employs more than 6,500 people and operates in more than 100 countries worldwide, with a leading position in Europe, North America, Turkey, Russia and China.
---
What does Main Heating Offer?
Main heating, like most other manufacturers, offers the 3 types of boilers. Combi, Regular, and Heat Only.  Their new boiler is cost-effective and is becoming more popular with people wanting a low-cost heating solution. 
You can compare boiler prices online to ensure you get the best deal online and you can even get a brand new boiler quote online now that would be perfect for your home all at a fixed price. 
What's the difference?
Combi boilers heat water instantly when the hot water tap is turned on. This means there is no need to store water in a cylinder. Check out some of the best combi boilers on our site from the top manufacturers now. 
System boilers are perfect for homes with more than one bathroom or with a high demand for hot water. They store water in a hot water cylinder ready for later use.
Heat only boilers (also known as regular boilers) are a more conventional way of heating the home. Heat only boilers work by heating the central heating and hot water together when used with a hot water storage cylinder, a feed and expansion tank and a cold water storage tank.
The Main Boiler Range and Models:

Let's take a look at the models in each category from Main boilers. We can then review all the technical data, the warranties and you can decide how they rank against other manufacturers based on our reviews.
Combi Boiler:
Main Eco Compact Combi
A versatile boiler system, the Main Eco Compact Combi is the best of the Main Combi range.
It is simple to install a system with 25kW and 30 kW versions available. 
Being a combi boiler, it means it will heat your water as needed and on-demand within the main unit. 
It is also A-rated with great energy consumption stats, improved efficiency, making lower gas bills for the homeowner. 
In addition to Main Heating's tried and tested technology, this boiler is simple to install in cupboard space, lightweight, compatible with Baxi uSense wired smart thermostat, and has a five-year warranty.
Main Features:
Choice of 25kW or 30kW

5-years parts and labour warranty

Boiler Plus compliant

Energy Saving Trust Endorsed

29.5kg lift weight

Compact cupboard fit

Low NOx emissions – rated class 5 (the best)

Brass hydraulics block

Top central flue

Optional stand off frame

Rigid filling link
System Boiler: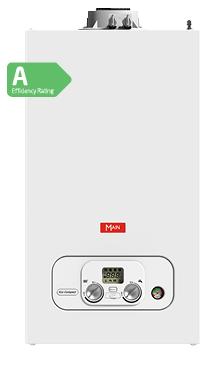 With its compact dimensions, the new cupboard fit Main Eco Compact System boiler is the perfect choice for homes with more than one bathroom. If you have 2 or more bathrooms, this boiler would suit your needs better than the combi system.  
It is easy to install and service, with front access to all components and central top flue, while its five year warranty, good looks and simple controls make it the perfect choice for your home.  
Main Features:
Choice of 15kW or18kW

5-years parts and labour warranty

Boiler Plus compliant

Energy Saving Trust Endorsed

28kg lift weight

Compact cupboard fit

Low NOx emissions – rated class 5 (the best)

Brass hydraulics block

Top central flue

Optional stand off frame
Heat Only Boiler: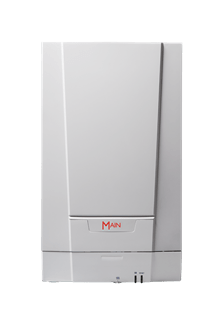 Main Heating's only Heat only or Regular Boiler system, the lightweight Main Eco Compact Heat has a top flue. 
This makes it a straightforward replacement for old, standard efficiency top flue models. The top flue option gives it a neat, attractive appearance. 
With high efficiency, and a decent 5 year warranty, the Main heat only boiler comes in with an average score when compared to other boiler systems. 
Main Features: 
5 year warranty*

Outputs 15kW, 18kW, 24kW and 30kW

Only 19.5kg installer lift weight

Compact cupboard fit

Easy fit wall mounted bracket

Front and side access

Top central flue

No pump overrun or permanent live required

Industry leading choice of flue lengths, bends and accessories
Overall, Main heating offers middle of the range quality and performance, with an average warranty on all their systems. 
We find that they are a little lacking in their features and internal components when you compare them to other boiler manufacturers such as Worcester Bosch or Viessmann. 
In all our articles, we tend to recommend the Viessmann boilers over even the more highly regarded Worcester Bosch systems. This is simply due to Viessmann's better warranty offerings, and better stainless steel heat exchanger.
In essence, we have reviewed, installed, maintained, and repaired many different types of boiler systems over the years so we are aware of the pros and cons of most systems. 
If you would like to get a no obligation quote for your next new boiler system then please use our partner company Boiler Central for a quote that matches your specific home.
 All you need to do is answer a few simple questions and you can have a new boiler quote, install date, simple financing options, and all this within minutes!
Also, if you need to look at boiler cover to protect your boiler system then see our partner also as they offer fantastic cover from only 13.99 a month!