Heatline Boiler Reviews: Who are They and What do They Offer?
Heatline Boiler Reviews – Are they any good?
Compare Boiler Quotes are on a seemingly never-ending quest to review all the available boiler manufacturers in the UK. Recently, we have been diving into the more little-known brands and looking at what they offer. 
There are many well-known brands out there from the Worcester Bosch's of the world to the Vaillant and Ideal systems which you may also be familiar with.  However, some of these brands we'd like to bet you've never heard of. 
Why Review Heatline Boilers?
If you're searching for a new boiler system or need a new boiler quote, I bet you have spent hours online looking at reviews, all the brands and models, and trying to make a decision on what to buy next. 
That's where Compare Boiler Quotes is here to help. 

Today, we are looking at another of the little known boiler manufacturers, Heatline.
In this Heatline Boilers review, we will look at the company and their history, the type of boilers they offer, the ranges we recommend, and our conclusion. 
Who Are Heatline Boilers? 

Heatline has been a UK manufacturer for decades and in recent times, it has become a part of the Vaillant Group. Having been manufacturing heating equipment for over fifty years, they know what it takes to produce high quality products that are affordable and reliable. 
Their current Capriz2 range of condensing combi boilers achieve SEBDUK 2009 standards and are known as being quite efficient. 
What Types of Boilers do they Offer?
 The Heatline Boiler Range actually isn't a range at all as they only have one boiler model available as of May 2020. This Model is the Heatline Capriz2. It is available in only two sizes, the 24kW and 28 kW models. 
Heatline Capriz2: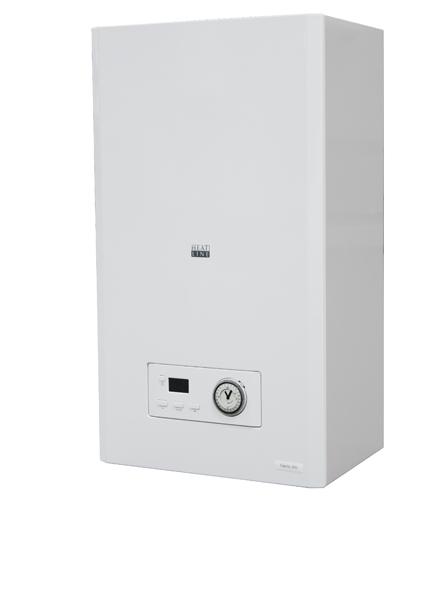 The Heatline Capriz 24kw would be suitable for smaller properties such as 1-3 bedroom homes with one bathroom.
The Capriz 28kw would be considered for somewhat larger properties in the region of 2-4 bedrooms and up to two bathrooms although 28kW is not as not quite as efficient in hot water heating as comparable 30Kw-35kW boilers from other boiler manufacturers.
According to Heatline's Website, The Heatline Capriz2 comes fitted with a 24 hour easy-to-use analogue timer. In addition to this, the Heatline Capriz2 is an ERP A rated boiler and achieves a SEDBUK 2009 efficiency rating of 89.3%.
It is a lightweight easy-to-install boiler with compact dimensions. 
Main Features: 
High-quality automotive-grade aluminium heat exchanger providing excellent performance

Compact and lightweight for easy installation

High efficiency, A-rated boiler for ErP energy labelling to reduce energy bills

Grundfos modulating pump for reduced energy use

User-friendly controls – digital diagnostic display

Factory fitted analogue timer

In-built frost protection
Differences between the Capriz2 24kw vs Capriz2 28kw

There are a few key differences in size and performance that you have to consider if you're in the market for a new boiler system. 
 The 24 Kw model only has a flor rate of 9.9L which will only be suitable for 2-3 bedroom, small homes. The heating output is only 18.4kW and the Hot Water Output is 24kW. We find the performance of this boiler as being much less than similar competitors.
If you have a medium sized property,  you'll need the 28kw Capriz but we also find that this is underpowered for most modern homes.
The Capriz2 has a flow rate of 11.4L, which is lower than average when compared to similar boilers. It has a heating output of 28kw and a hot water output of 28kw.
If it is going to replace an old boiler, both models will still be more efficient than your current boiler , saving you money on heating costs.
What is the Warranty on the Heatline Boilers?
The only major issue we have with the Heatline Boilers is the almost farcical 2-year parts and labour warranty. 
This is one of the lowest in the industry. As we have stated , if a company offers a high warranty say 7-12years, then you know they have confidence in their product and its reliability.
Short warranties like 2 years, do not inspire confidence at all.
What is the Price of Heatline Boilers?
The pricing of Heatline boilers is quite competitive however this is negated by the fact that the 2 year warranty is so low. You have to factor the cost of repairs and maintenance if you are looking to buy this type of boiler system. 
In terms of installed cost, depending on the kW size is between £1400-£1800. This is as of May 2020.
Conclusion:
When we factor the cost, the warranty, and the features, we would not recommend this boiler system as others are far more reliable and for a similar price. 
Although the aluminium heat exchanger with high quality airline aluminium is a nice feature, it doesn't come close to the much more reliable stainless steel heat exchangers on other models. 
For example, instead of either Capriz2 24kW, or 28Kw we would highly suggest looking at the Viessmann Vitodens 050-W and Viessmann Vitodens 100-W respectively. 
Also, if you're looking to get a boiler quote on your next new boiler, then please see our partner Boiler Central. They have a unique boiler quote calculator, where you can answer 9 simple questions about your home and get a quote which is personalised to your home.
This saves you time and money researching every boiler, as the best one is recommended to you! If you like the quote, you can go ahead and order the right boiler, book an installation date, and even get flexible financing, all online.
If you don't yet need a new boiler, but you are looking for boiler cover, then our partner site also offers affordable boiler cover from as little as £13.99/month. 
They also have plans which cover your heating, electrics, and even lost keys.
Thanks again for reading our review and please check back often to see more reviews and insights in the latest boilers and boiler manufacturers.