ATAG boiler reviews: The company, quality, and pricing.

If you are doing your research on new boilers, and want to see what the quality and reviews are like, then read on.
You may have come across the other brands such as Worcester-Bosch, Viessmann, Vaillant, etc however you probably haven't come across many ATAG boiler reviews of recommendations.
So Compare Boiler Quotes are here to help! With a comprehensive look at the company, products, performance, and warranties.
Let's get started with our ATAG boilers review.
About the Company:

ATAG has been manufacturing and designing boilers for 70 years now. During this time, they have set new standards for high efficiency, service, and engineering. 
What is different about ATAG, is the fact that they install and design boilers for most countries in the world, each with different engineering standards.
This has led to the development of the 'i' series boilers. These are built to exacting standards with only the best quality steel and brass components.
According to ATAG, they offer the most energy-efficient boilers in Europe, with the lowest NOx emissions. 
They especially make a lot of headway into the market with their newest iCon heat exchanger. This heat exchanger, made from stainless steel, is rated to 98% efficiency and able to retain the efficiency over years of continuous use.
Types of ATAG Boilers:

As with other manufacturers, ATAG has a varied range when it comes to types of boilers. 
These are combi, system, and regular boilers. You will need to identify which system you have before you make a choice for your new boiler. 
Read our best combi boiler guide for more information on getting the best boiler. 
We will list a quick overview of each type here:
Combi Boilers:
Combi boilers are the most common boilers on the market in the U.K.  Combi boilers heat water and radiators from the main units, without the requirement for a separate hot water storage tank, These are known as on-demand systems.
Regular (Conventional Boilers):
Regular boilers are similar to system boilers which have a cylinder to store the hot water, making them useful for larger homes that require more water. They also have a cold water storage tank in the attic of the loft and are good for using more than one shower or tap at once.
System Boilers:
 System boilers are usually in older properties or larger properties where there is more hot water demand.
If you have a 4 bedroom home and 2-3 children who could be using baths and showers simultaneously, then you may need to consider a system boiler.
Customer Reviews:

ATAG boilers have some great online reviews however you may still not be sure as to their reliability if you are currently searching for them.
For example, we found the best place to look to be Trustpilot. The main focus is customer service, as no matter the quality of your boiler manufacturer or system, there can always be issues and breakdowns.
How the manufacturer handles this is generally a good indicator of their quality and reliability.
Here are a few reviews for ATAG boilers:
''
Luke Breedon absolutely fantastic our…
Absolutely fantastic our installer. The boiler is extremely efficient and has cut our heating bill in half. Definitely recommend ATAG, i even used their boilers on finance offer to pay monthly for my replacement boiler.''
'B
rilliant customer service'
We contacted customer support at around 9 am as we had no domestic water. Our call was answered promptly & we were advised that a technician would call us back within the hour, which they did & then dispatched an engineer.
By 2.30 pm he was at our home & completed the repair. Amazing service especially given the "lockdown" which we are all experiencing.''
Marian Conway: Works effectively
Works effectively. I do wish the bottom of the boiler had a cover, very ugly looking and we have it in our kitchen.
---
ATAG Boiler Range:
As we mentioned above, ATAG has a differing range of boiler systems from combi, regular and system boilers.
We will pick one of each category for our initial review, however, there are other options and sizes in each range. 
If you wish to see the whole range then visit the ATAG website here
ATAG Combi Boiler: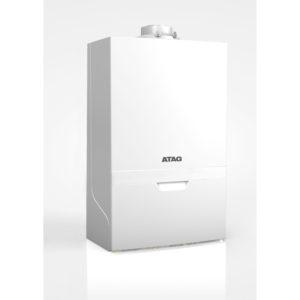 The ATAG Combi boiler range comes in 10.1-16.2 KWH ranges so they are suitable for all size homes from 1-6 bedrooms. 
We will look at the mid-range boiler, the i36C kW:
The i36C kW is suitable for medium to large-sized homes with more than one bathroom.
It is rated for a water flow rate of 14.9 litres per minute, making it quite large when compared to other similarly priced and marketed boilers which average around 12.4 litres/min.
Being highly efficient, the i36C can save you over £300+ a year on heating costs!
It is also quiet and compact and has an A-rated energy and water rating.
ATAG i36C Kw Features:
Compact dimensions (mm) h700 x w440 x d355

A 275 mm (deep) model is available to fit inside kitchen cupboards

Standard 10-year warranty

Lifetime replacement guarantee on the iCon heat exchanger

Instant hot water with the pre-heat facility

Comes with an outside weather compensator as standard

Achieves ErP 'A' rating for heating and hot water

Savings of up to £300 off energy bills (Energy Saving Trust, April 2017).

Completely user friendly
ATAG i36C Price (without installation): £2,300
ATAG System Boiler:
System boilers from ATAG come in a numbered range however each specific system has a range within it of 15 kW to 40 kW. The variations are in the efficiency, size of boiler and capacity, etc.
The ATAG iS system boilers are therefore suitable for all size properties no matter the demand for hot water.
What makes ATAG system boilers stand out in the market is the built-in ErP pump. This will control the boiler's heat, making it as efficient as possible, saving you money on bills for years to come. 
We will again look at the mid-range boiler, the i40S
Features:
Compact dimensions (mm) h700 x w440 x d355

Standard 10-year warranty

Powered by the unique iCon heat exchanger with a lifetime replacement guarantee

Energy-Related products A Rating – the maximum standard rating for heating and hot water

Ideal for homes where the heating system includes a hot water storage cylinder

Can be combined with ATAG iSteel hot water tanks

Can be used with the ATAG ONE controller and 3 port valve kit

Completely user friendly
ATAG i40s Price (without installation): £2,000
ATAG Regular (Conventional) Boiler: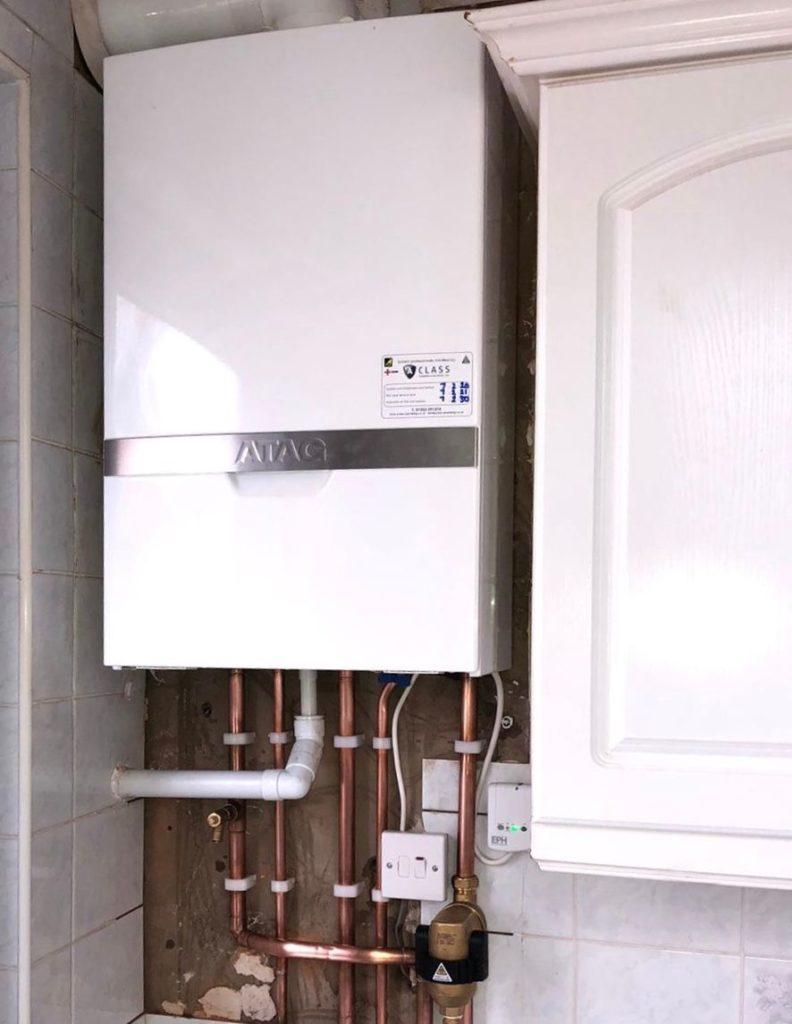 Today, we will be looking at the mid-range i40R regular boiler.
The iR Regular boiler range is perfect If you need to replace your current regular boiler.
They range in size from 15kW to 40kW while providing an economic way to replace your current system.

You will not have to make any changes to the way hot water is distributed in your home.
It also has simple to use controls that are extremely user friendly, along with flue solutions, meaning you can be flexible where your boiler is installed.
i40R Regular Boiler Features:
Compact dimensions (mm) h700 x w440 x d355

Standard 10 year warranty

Powered by the unique iCon heat exchanger with a lifetime replacement guarantee

Energy-Related products A Rating – the maximum standard rating for heating and hot water

Ideal for homes where the heating system includes a hot water storage cylinder

Can be combined with ATAG iSteel hot water tanks

Completely user friendly
ATAG i40R Price (without installation): £2,150
The Warranty: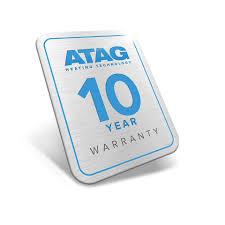 There's a one really important plus point when it comes to ATAG boilers reviews. That's the amazing warranty. They offer an outstanding 10-year warranty on all boilers. 
That's 10 years of peace of mind for you and your family. If you've read some of our other boiler company reviews, you'll be aware that other manufacturers are between 2-7 years on average.
Remember, you may not need any boiler cover during this time, so there's a savings of up to £300/year for 10 years!
This is a testament to the confidence ATAG has in its boiler systems. 
What's Next?
Thank you for reading our ATAG boiler review, we hope the information provided is of use in your new boiler search. View ATAG boiler prices to get more information on pricing and the boiler installation cost for an ATAG. 
If you would like a price on a boiler then click here for a new boiler quote.
Simply answer 9 questions with our boiler size calculator about your home for a customised price tailored to you below to get the right size boiler for your home: