Alpha Evoke 33 Combi Boiler Review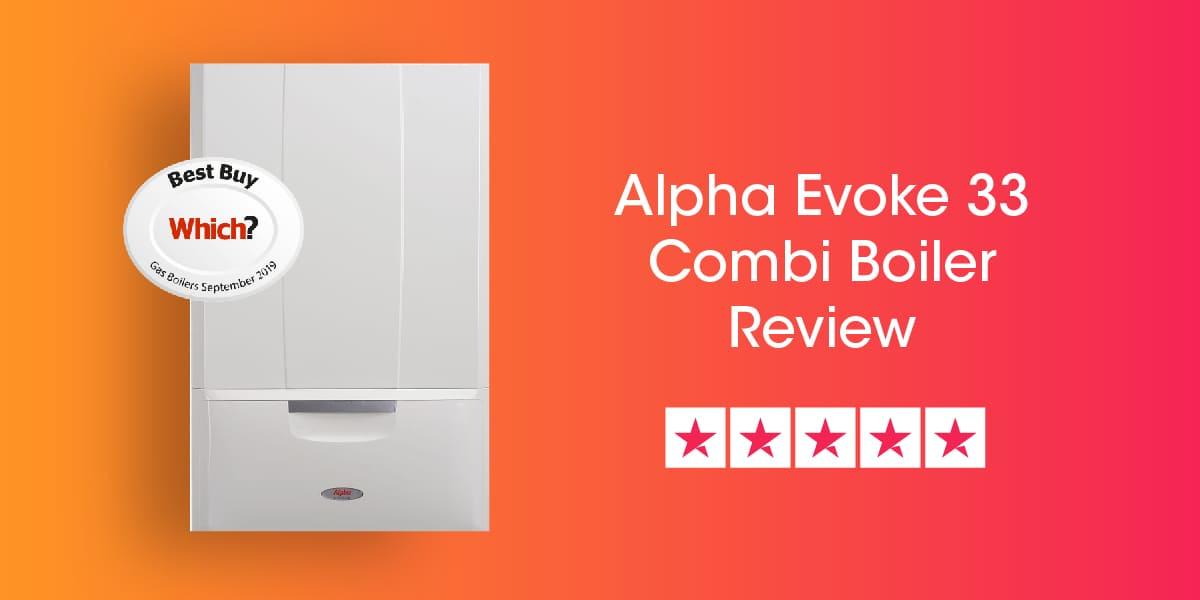 Alpha Evoke 33 Combi Boiler Review
Manufactured by the highly regarded Alpha, the Evoke 33 combi gas boiler is one of the most popular compact home combination boilers on the market.
As the bigger sibling of the Evoke 28, it delivers 33kW while it is additionally celebrated for a wide range of impressive features.
Are you a landlord or homeowner looking for more information on the Alpha Evoke 33 combi boiler? Here's everything you need to know to improve your experience:
Will the Alpha Evoke 33 Combi Boiler be suitable for my home?
The Alpha Evoke 33 is a condensing gas boiler that should be wall-mounted or fitted in a kitchen cupboard that you have easy access to.
From a practical sense, though, it's important to check that this is the right type of unit for your property.
It also features the company's smallest ever stainless steel heat exchanger, further supporting the compact features.
While the functions and capacity do have limitations – you won't want this boiler for a 7-bed mansion – it is a suitable solution for medium sized homes and families.
Meanwhile, the LCD screen and push button controls are particularly suitable for individuals with poor sight or dexterity, which can make a big impact on landlord decisions.
Heating Controls 
The heating controls are all found on the front panels, with the backlit LCD providing clear details of settings.
The screen additionally notifies users when a fault is found. Each of the push button functions are clearly marked from the LCD screen, enabling users to avoid confusion or ambiguity.
From troubleshooting to managing the water and gas supply, the Alpha Evoke 33 is very easy task indeed.
Size – How big is the Alpha Evoke 33 Combi Boiler?
The wall-mounted Alpha Evoke 33 combi boiler's physical dimensions measure out at 712mm x 440mm x 255mm, which is exactly the same as the Evoke 28. This includes the backlit LCD control unit and the visible gauge, making it a very compact solution.
As a combi boiler, it also avoids the need for bulky water tanks or cylinders.
This single unit can fit comfortably inside any standard size cupboard, ensuring a very practical solution for homeowners in various circumstances.
Best suited to?
Due to its compact size and combi boiler attributes, the Alpha Evoke 33 is a hit with homeowners and landlords that are short of cupboard space and do not have a loft or other designated area for big water tanks.
Releasing 14.1 litres per minute and a choice of two outputs, it is an ideal solution for small-to-medium size properties.
The Alpha Evoke 33 is perfectly suited to one-bed and two-bed properties, as well as three-bed properties that do not require excessive hot water and heating.
If you are planning to simultaneously run multiple baths, showers, and appliances, a unit with a larger capacity will be required.
How long is the warranty on the Alpha Evoke 33 Combi Boiler 
The Alpha Evoke 33 combi boiler comes with a 5 years warranty as standard, although in the terms conditions an extended 7-year warranty is possible.
This covers all faults relating to water supplies, heating, and the control panel, delivering peace of mind to all owners.
Annual servicing is still advised to ensure that the boiler stays at optimal performance.
In the rare occurrence that a problem does surface within the warranty period, Alpha will replace the boiler unit without hesitation or send out one of there recommended boiler engineers.
Energy Efficiency
Alpha boilers is a manufacturer synonymous with producing reliable units, even at the lower end of its product range.
The Evoke 33 boasts an efficiency rating of 89%, which places it at the upper echelons B-rated boiler units. This equates to A grade ERP ratings for both heat and water.
The boiler features a range of components designed to aid performance and reliability. The list includes the high-efficiency Grundfos pump, hydroblock assembly, single electrode, pip frontal NTCs, single-piece cartridge diverter valve, clip-on DHW temperature sensor, dry change condensate and pressure relief valve connection, and IPX4D protection. In addition to immediate efficiency, the unit is conducive on longevity.
How much does an Alpha Evoke 33 Combi Boiler cost?
The Alpha Evoke 33 condensing boiler is available at a cost of £590.00. Meanwhile, the average cost of an installation will sit in the range of £500.00 to £1,000.00 depending on where the boiler is located and whether additional work is required in relation to the outgoing boiler system.
This places the Alpha Evoke 33 within the mid-range category on the market as a whole and at the lower range of the Alpha family, which is in line with the specifications. The costs also include post-installation servicing.
Get a fixed price online now on a Alpha boiler at Boiler Central, the UK's fastest growing boiler company. Click here to get a fixed price now online