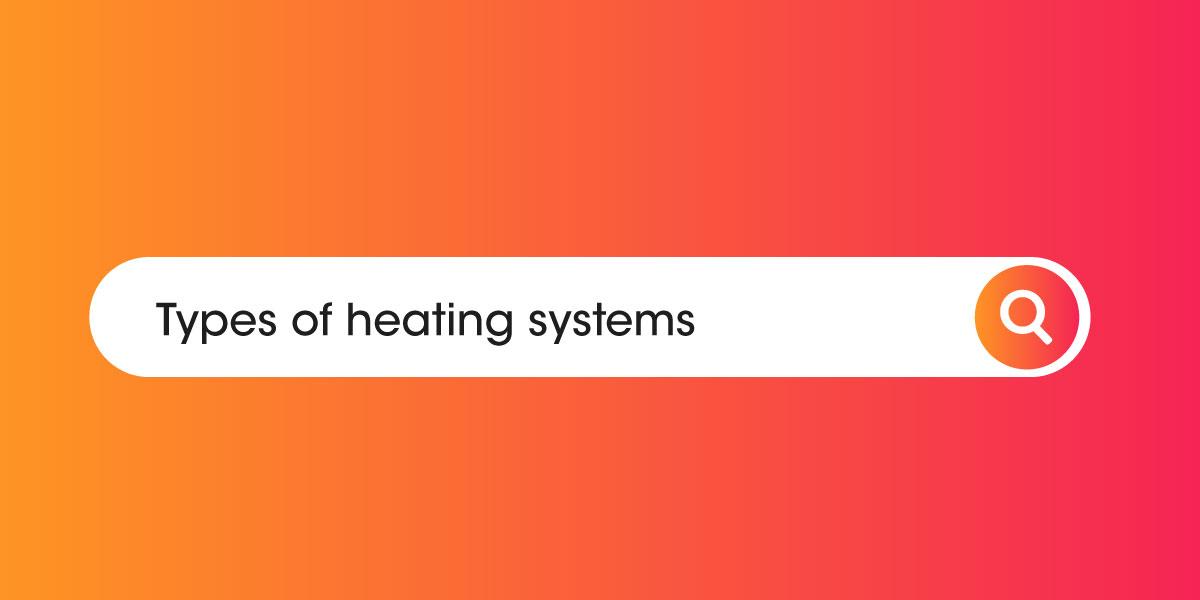 What are the different types of heating systems?
If you've started to look for a new heating system, you might feel like you need a dictionary to work out exactly what's on offer.
From combi to regular and system through to condenser, ErP, heat exchanger and storage heaters. If you're not sure what's on offer, then you could end up with a central heating system that doesn't provide what you need.
Click here to get the lowest price on a new boiler in 20 seconds online
But, help is at hand! In this guide, we're going to provide all the information that you need so that you can make a great choice for your new heating system.
We're going to start off by looking at the different fuel options, then the three boiler types before finishing off with our top picks from some of the best-known boiler brands.
Central heating systems
Depending on where you live, there may be a choice for the type of fuel that's going to run your central heating system.
But it does make sense to, first of all, consider what your requirements are. If, for example, you want underfloor heating, then be aware that not all types of central heating systems can provide this.
Then are you looking for a wet system or are dry air systems an option to look at? A wet system circulates water through central heating systems while air systems increase the temperature of a room by heating air and then forcing it out of vents.
Click here to get the lowest price on a new boiler in 20 seconds online
Central heating system fuel types
Gas
Mains natural gas is the UK's most common fuel for running a central heating system. With lower running costs and with the potential for higher output, it seems to be a clear winner in a gas vs. electric competition.
Don't forget that only gas safe boiler engineers can install or service a gas boiler. Gas safe means that the engineers have completed training and are accredited to safely work on gas-fired appliances.
But, not every home has access to the mains gas network and so, in that situation, an alternative is needed.
Oil
Oil is the second most common fuel for powering a heating system. Heating oil is considered to be safer than gas because it's not explosive, and it also doesn't produce any carbon monoxide.
This is also a very efficient fuel, and that's because heating oil burns at a much higher temperature than gas and also delivers more heat than most other types of fuel.
Electric storage heaters
With some homes not being on the mains gas network and not having the space for an oil tank in the garden, electric central heating with storage heaters might be the solution.
Quicker and cheaper for heating installation, electric heating systems have few moving parts, and there's no need for annual servicing.
Electricity is, however, going to mean higher energy bills compared to gas or oil. Even if you use Economy 7 or Economy 10 to power an electric central heating system along with storage heaters, it will mean that any electricity use during the day will be at a higher rate.
Then there's the issue of a delay between turning on your electric central heating system and there being heat available to warm the storage heaters. With water-heated radiators, that's not an issue.
Liquid petroleum gas (LPG)
To run an LPG boiler, you'll need a boiler designed for this fuel type along with a storage tank. The tank is usually kept outside the home and is often rented from the LPG supplier.
For running a central heating system, this type of fuel is more expensive than oil. However, it's also a more efficient fuel so your home energy bills may reduce in the long term.
If reducing your carbon footprint is an important consideration, LPG boilers produce lower levels of carbon emission than other types of fossil fuels such as natural gas.
Biomass
Biomass is biological material commonly made from wood. It comes in the form of woodchips, pellets or logs of wood. This is a much more environmentally friendly source of energy for a home heating system.
Central boiler systems of this type are also carbon-neutral. That's because the same amount of carbon dioxide is released as was absorbed by the growing tree.
On the downside, a biomass central heating system is currently expensive and it's big. You're going to need space in your home to store the boiler and the biomass, which must be kept dry.
Boiler types
So, now that you've narrowed down the choice of fuel, it's time to consider the different types of central heating systems and find the one that's going to work best for your home.
Condensing and non-condensing boilers
From 1st April 2005, UK legislation was passed to ensure that all new gas boilers are of the condensing type. That then means that there are now very few non-condensing boilers, however, it's still possible that one or two are still in operation.
Non-condensing boilers are inefficient because they lose heat via the hot gases which are pulled out of the flue. The condensing boiler has been designed to reduce the heat that's lost along with those gases. That's done by having a larger heat exchanger.
That results in the gases being cooled and the water vapour is condensed, hence the name, condensing boiler. The condensate liquid is then drained out via the condensate pipe and into the wastewater system.
With this additional heat exchange process in place, this modern version can extract nearly all of the heat within the flue gases which is then transferred back into the heating system. This has a huge effect on how energy efficient the boiler is, with condensing boilers achieving efficiency levels of more than 90%.
Read more: Condensing boiler vs combi boiler
Efficiency levels
When you compare that to non-condensing models with an efficiency rating of 70 to 80 per cent and older models only achieving 50 to 60 per cent that's a huge difference compared to modern central heating systems.
In turn, it's also going to mean a big increase in how much money an average customer could save on home heating when a condensing central heating system is installed.
Combination boilers
Combi boilers are the most popular type of central heating system for the UK customer, and there are several reasons for this popularity.
Advantages of the combi boiler
1. No need for water tanks or cylinders
To get heat, all you need is the boiler! The combination boiler takes its water supply directly from the mains, so that eliminates the need for a cold water tank. Then, it heats water as and when you turn on the hot water tap or turn up the thermostat for the central heating system.
So, that then means there's no need for a hot water cylinder and it results in lower boiler installation costs.
Even the best combi boiler is able to meet the needs of most family homes, providing an efficient source of hot water and heating.
2. High levels of efficiency
With no loss of heat from stored hot water, combi boilers are one of the most efficient types of central heating. And that's then going to convert to lower energy bills
3. Clean water supply
With the water coming from the mains rather than a tank, you can be reassured about how clean it is. No more worries about how dirty the tank might be!
Disadvantages of the combi boiler
There are however also some downsides of the combi boiler running your central heating system and they need some careful consideration.
1. Ability to cope with high hot water demands
If the demand is high, so perhaps there are two bathrooms, then combi boilers can struggle to keep up with how much hot water is needed. However, some boiler manufacturers now offer a combi boiler with an integral storage tank to minimise this issue.
2. Reliance on mains pressure
For a combi boiler to be able to supply a central heating system, good mains pressure is needed.
So, before having a new boiler fitted, you should check what the mains pressure is before you go ahead with the installation.
System boilers
After the combination boiler, this is the second most popular type of boiler for UK central heating.
Advantages of the system boiler
1. Can supply hot water to several taps at the same time
The system boiler is able to heat water to deliver to several outlets all at the same time and without any drop in pressure.
This is because water is heated in advance of you needing it and is then stored, ready for use, in a cylinder. That way, it can cope with your requirements for both the central heating and several outlets all at the same time.
2. Takes up less space than a regular boiler
A traditional or regular boiler needs both a cold water tank in the loft and storage for the hot water. The system boiler, however, needs just a hot water tank.
That then means that your loft space is kept free for storage or conversion and the installation costs will be lower.
Disadvantages of the system boiler
1. The hot water supply can run out
The hot water tank of the system boiler can only hold so much water. So if all the family have a shower in the morning, then you may find that the stored pre-heated water has all been used. You'll then need to wait until another batch has been heated before you get another supply.
2. Takes up more space than a combination boiler
With the need for a tank to store the heated water, the system boiler does take up more room in your home than the combination boiler.
Regular boilers
Although the regular boiler is the oldest design of the central heating system, there are still some situations where it could be a good choice for providing heating and hot water supplies.
Advantages of the regular boiler
1. Low pressure isn't a problem
With the set-up of a regular boiler, even if you have a low-pressure supply, you can still have a power shower and decent pressure from the taps.
2. Back-up hot water supply
By fitting an immersion heater in the tank, you can still have hot water even if your boiler breaks down.
Disadvantages of the regular boiler
1. The space required
This central heating system is made up of several different components all of which needed to be fitted in your home. So that means:
boiler unit
hot water cylinder
cold water tank
feed and expansion tank
2. Lower levels of energy efficiency
Regular boilers are less energy efficient than a combi, which means that heat production is going to cost more. And no one wants a central heating system that they can't afford to run!
Our favourite heating systems
So, you've now decided on both the type of fuel and boiler for your central heating system. Now we're getting down to the new boiler that's going to power the heating system.
Our combination boiler top picks
Worcester Bosch Greenstar 8000
If you're looking at the top of the range heating systems, then this model could be an option. Coming with a stunning design that you won't want to hide away, it also has first-class technology to provide reliable and efficient central heating for your home.
Worcester Bosch has a huge amount of experience in the heating market, so you can feel confident about the quality of their systems. In fact, this could be the best combi boiler available right now.
Greenstar 8000 can be paired with Bosch EasyControl, which then enables control of central heating systems no matter where you are. There's so much to talk about with this model that we've published a complete guide to the Worcester Bosch Greenstar 8000 review.
Viessman Vitodens 100-W
As Viessmann's top-selling combi, you can be sure that not only will it provide heat and hot water to your home, but it'll also do it with a high degree of energy efficiency.
This range of gas boilers comes with a 12-year warranty which means that you can have peace of mind about your new boiler being in perfect working order, for years to come.
For more information on this gas central heating option, take a look at our Viessmann 100W review.
Our system boiler top picks
Protec Plus from Alpha
If you need a gas central heating system that's designed for a high demand household, then the Protec Plus systems from Alpha could be the solution.
In terms of heat output, there are four options, 50kW, 70kW, 90kW and 155kW making it a heating system that's perfect for a large home with radiators located a distance from the boiler.
If you're interested in underfloor heating, the Protec Plus could be a great option.
Logic+ System from Ideal
If you're looking for a central heating boiler that comes with award-winning status, then the Logic + from Ideal could be a great choice.
This gas boiler is so quiet that it's achieved Quiet Mark Accreditation. It's also approved by the Energy Saving Trust so you know that it's going to be able to power your gas central heating with high levels of efficiency.
Our regular boiler top picks
Vaillant ecoTEC plus
The ecoTEC plus is available with a range of power outputs going from 12kW all the way up to 35kW.
This means that the ecoTEC is suitable for a range of heat and hot water systems and for powering radiators throughout the home.
Designed to fit neatly into a kitchen cupboard, the ecoTEC plus is also highly efficient, having been awarded an ErP A rating and that means lower heating bills.
Viessmann Vitodens 200-W
This powerful boiler is a good option for central heating systems in larger properties.
It achieves up to 98% fuel efficiency, which makes it one of the most efficient regular boilers currently available.
With a high-efficiency MatriX cylinder burner and the integrated Lambda Pro Control Plus combustion controller, you'll also see a reduction in maintenance costs.
Compatible with the ViCare app, you'll be able to check that your central heating system is working correctly. And, if it's not, then it will message an engineer to let them know that help is needed.
Heating systems: Final roundup
There really is a heating system out there for every home and every requirement and while it's great to have a choice, things can get a little overwhelming.
We hope that our guide has shed a little light on the options available to you which will then help you make the right choice for your home.
Of course, you can just do it the easy way and get new boiler quotes from our team!
We'll work out the costs along with making recommendations for the best types of boilers for your home.