How does a combi boiler work?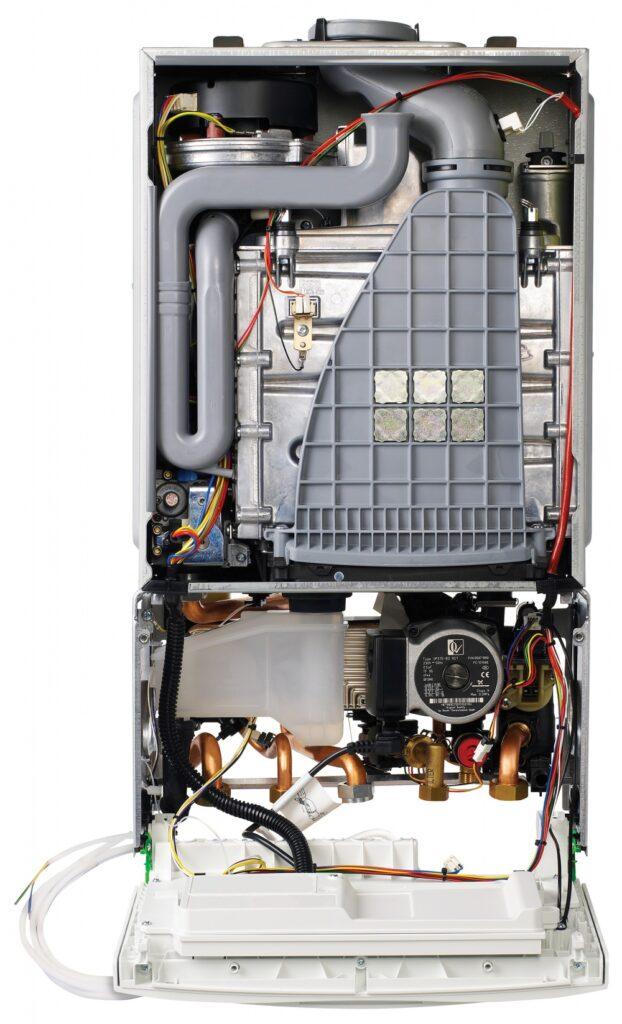 How does a combi boiler work and are they any good?
In the UK, there are three main types of boilers that are used for domestic purposes: combi, heat-only, and system boilers. The most popular of the three is the combi boiler.
Get a fixed price quote on a new combi boiler here in 20 seconds
But what exactly is a combi boiler and how does it work? In this guide, we'll provide you with everything you need to know about how combi boilers work, their benefits, and their potential costs.
This way, you can make a well-informed choice on the most suitable boiler for your property.
What Is a Combi Boiler?
A combi or "combination" boiler is a heating system that is designed to provide a combination of both heating and hot water all through one single system.
This type of boiler features all the components of a traditional heating system, but it does not require an additional hot water cylinder or cold-water tank for storage as water is heated directly from the mains.
How Does a Combi Boiler Work?
When you require heating or hot water for your property, cold water is fed into the system directly from the mains. Gas is then burnt as fuel to produce heat, and this is transported from the system's combustion chamber to create hot water via the heat exchanger.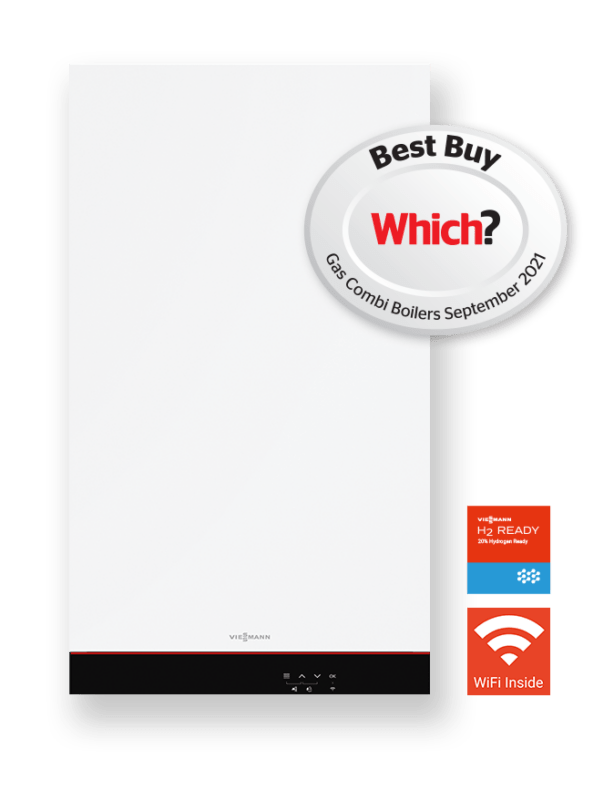 Once the signal for hot water is sent to the combi system, the hot water is sent directly to your taps and radiators on-demand via the diverter valve.
When the tap is switched off, the diverter will reposition itself to the central heating setting, as combi boilers cannot deliver both hot water and central heating at the same time. 
All modern combi boilers are condensing, which means that they extract latent heat from flue gases to reuse energy that would have otherwise been wasted. With hot water on demand, this makes them a highly efficient and cost-effective solution.
What Are the Pros and Cons of a Combi Boiler?
If you're considering getting a combi boiler installed, it is essential that you first consider all of the pros and cons of this boiler type. This will help to ensure that the system you choose can effectively meet your heating and hot water needs for years to come.
Choosing a combi boiler suitable for your home is the most important thing to take into consideration when choosing a new boiler. Below, we highlight some of the main benefits and disadvantages of combi boiler systems.
Pros of combi boilers
On-demand hot water – Combi systems are designed to provide instantaneous hot water to your taps and central heating system. Additionally, as the water isn't stored in a hot water storage tank, you don't have to worry about your supply running out.
Space-saving – As combination boilers do not store water, they do not require any extra tanks or cylinders. This makes them a great space-saving option, particularly for smaller properties with minimal space. A modern combi boiler can typically be easily fitted into a standard-sized kitchen cupboard.
Energy-efficient – Contemporary A-rated combi boiler systems are highly efficient as they are manufactured to provide optimum levels of heating with low energy consumption. Also, as all modern combi boilers are condensing, they can recycle energy for maximum heating efficiency.
Long-lasting – A combi boiler can last up to 15 years in operation when maintained properly with regular servicing.
Cons of Combi Boilers
Not suitable for larger homes – A combi boiler cannot deliver heating and hot water at the same time – so if you are running a bath, your heating will be turned off temporarily. You also cannot run more than one shower or bath at the same time. These factors make combi boilers a potentially unsuitable option for larger homes.
Requires quality mains pressure – As water is supplied directly from the mains, a good quality of mains pressure is required in order for your combi boiler to work effectively and provide you with a suitable standard of heating and hot water. You should consider the quality of mains pressure in your area before getting a combi boiler installed.
Not compatible with power showers – Combi boilers are not compatible with boiler pumps and their water pressure depends on the pressure supplied by the mains. Power showers require a hot water cylinder, however, combi boilers do not feature this component. Electric showers, as well as digital and mixer showers are more compatible with combi boiler systems.
No Immersion heater – As combi boilers do not feature an extra water tank, you cannot have a backup immersion heater in case of a breakdown.
Which Brands Manufacture Combi Boilers?
Due to their popularity, plenty of heating top boiler brands manufacture combi boilers. Here are some examples of the heating manufacturers that have combi boilers within their product catalogue:
Worcester Bosch – This renowned brand manufactures combi boilers as part of their infamous Greenstar boiler range. This includes Lifestyle 8000, Greenstar 4000, Greenstar 8000 boilers and many more.
Ideal – Ideal manufactures a variety of energy-efficient combi boilers as part of their Logic, Vogue and Logic Max ranges.
Vaillant – This manufacturer has a number of combi boiler ranges, including their ecoTec exclusive, ecoTec plus, ecoTec pure and ecoTec pro boilers.
Baxi – From the Baxi Duo-Tec range to the Baxi 200, Baxi 400 and Baxi Platinum series of boilers, this brand has a diverse selection of combi boilers on offer.
Alpha – Within Alpha's collection of combi boilers, they offer E-Tec boilers, E-Tec Plus boilers, as well as the Evoke and Intec combi systems.
Viessmann – Viessmann manufacture a range of different combi boilers to suit a variety of different households' needs. Their collection includes the Vitodens 050-W combi boilers, the Vitodens 100-W systems and the Vitodens 200-W combis.
Glow Worm – Within the Glow Worm combi boiler range, there is the Energy combi boilers, the Ultimate3 systems, Easicom3 boilers and the Betacom3 boilers.
Zanussi – With just one combi boiler range in their collection, Zanussi manufacture the Ultra Combi boiler series.
Combi boilers for central heating
With the vast selection of combi boilers available on the market, it can be difficult to make a decision about which new boiler option is best for your home.
To help you with your decision, below we list our recommendations for top three best combi boilers currently available.
Worcester Bosch 2000 combi – Another installment from Worcester Bosch, this boiler is a popular choice for many households; available in sizes of up to 30kW.
Want to find out more about the best combi boilers in 2022? Check out our detailed "Best Combi Boiler 2022" article for more information.
Will a combi boiler cope with my hot water demand?
When deciding which combi boiler is best suited to your home and needs, one of the main factors you'll need to consider is boiler size. A boiler's size is measured in kW output. This unit is used to describe a boiler's ability to cope with your heating and hot water needs.
The higher a boiler's kW output, the more powerful it is. Thus, a larger home will be better suited to a combi boiler with a higher kW output.
Choosing a combi boiler with the right kW output for your property is significantly important. Selecting a system too large can lead to excessively high energy bills, whilst a boiler too small may struggle to meet your needs and become prone to breakdowns.
Here at Compare Boiler Quotes, it's our goal to ensure that you get the best combi boiler for your needs installed. So, to provide you with a better understanding of boiler outputs, we've created the following table with size recommendations for different types of households:
Boiler Size (kW output): 24 kW – 27kW
Property type: Smaller homes, 1-2 bedrooms, up to 10 radiators and 1 bathroom
Boiler Size (kW output): 28 kW – 34 kW
Property type: Medium-sized homes, 3-4 bedrooms, up to 15 radiators and up to 2 bathrooms
Boiler Size (kW output): 35kW – 42 kW
Property type: Larger homes, up to 5 bedrooms, approximately 20 radiators and 2 bathrooms.
Interested in finding out exactly which size boiler is needed for your specific property?
Try our free online quote tool today to get a bespoke estimate of installation costs for your new combi boiler, as well as receive a professional recommendation for a suitable boiler for your needs.
How does combi boiler installation work?
Another key factor to consider when purchasing a new combi boiler is your budget and the potential costs of the installation.
The price of a new combi boiler installation can vary depending on the boiler brand and model selected, the size of the system, as well as the complexity of the overall installation process. For example, if scaffolding or pipework modification is required for your installation, this is likely to come at an extra cost.
On average, a new combi boiler can cost approximately £1,795 to install. At Compare Boiler Quotes, we aim to provide all of our customers with the best deals on boiler replacements to ensure that you never pay more than you need to.
Our boilers are affordably priced, and all of our installations are conducted by experienced, Gas Safe registered engineers.
Why not try our free online quote tool today to get a personalised estimate of costs for your new combi boiler installation? Simply enter a few details about your property and your heating requirements, and in just a few seconds you'll receive your free quote, plus a recommendation for a boiler that is best suited to your home.
How does combi boiler finance work?
Yes, our recommended installers at Boiler Central offer a range of flexible finance options to help homeowners like you cover the cost of their new combi boiler installation. We understand that a new boiler can be a huge expense, so you may not want to or be able to pay for the entire installation upfront.
That's why we offer finance options such as £0 deposit, 0% interest, and buy now pay later to help you spread the cost of your new combi boiler installation. Find out more about our boiler finance options here.
All our boilers on finance are fitted by a Gas Safe registered installer for your peace of mind and you don't have to pay a penny until you start your repayments.
Will it cost more to swap boiler types to a combi boiler?
If you currently have a heat-only or system boiler with a hot water storage cylinder installed in your property, and you wish to swap to a combi boiler system, this is likely to increase your installation costs. This is due to the pipework modifications and system changes that will need to take place.
Although this kind of boiler replacement can be more expensive, you are likely to make more savings in the long term if your household is better suited to a combi boiler. Plus, you will be able to benefit from the numerous advantages that a combi boiler can bring.
Choosing your new combi boiler installation
A combi boiler could prove to be a great addition to your home. These innovative and efficient systems can provide you with an excellent quality of heating and hot water, all through one compact system – helping you save space, money, and time.
At Compare Boiler Quotes, we recommend Boiler Central which supplies and install some of the best combi boilers available on the market. Our combi boilers are manufactured by top brands in the industry, from Worcester Bosch and Ideal to Viessmann and Baxi.
All of our systems are A-rated for energy efficiency, so you can make huge savings on your annual energy bills and have peace of mind in knowing that your heating system is not using energy in an excessive manner, thus helping to preserve the environment.
Additionally, all of our boilers come with up to 12 years' manufacturer-backed warranty to provide you with an added sense of security. For additional protection for your combi boiler, we recommend considering our Boiler Cover options, and our Home and Heating Care plans.
Try our free online quote tool today to get a quick and easy quote for your new combi boiler installation by a Gas Safe registered engineer.