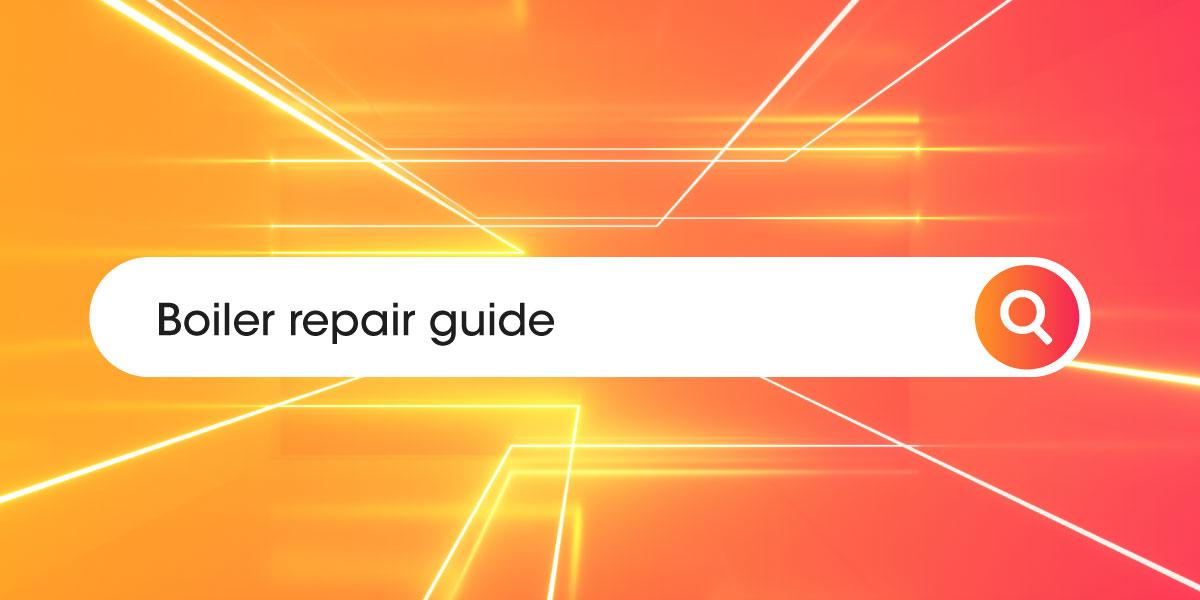 Your complete guide to boiler repair
There's nothing worse than stepping into the shower to be met with a torrent of cold water or coming home to a cold house.
When your boiler's not working, it's one of those household appliances which needs fixing as soon as possible. No one wants to be without hot water for long.
So whether you have a system, regular or combi boiler, you need to understand your options for quick and reliable repair service.
What boiler repairs can the customer undertake?
Before you call our the engineers, there are some things that you can repair that could enable you to get everything up and working:
Frozen condensate pipe
If the weather has turned really cold and icy, then there's a chance that the wastewater has become frozen in the condensate pipe. When your boiler senses that there's a problem, then it'll shut down until everything has been sorted out.
How to fix a frozen condensate pipe
To get your boiler working again, you need to melt that ice blockage. This is a simple repair, that's done by pouring warm water over the pipe. It really does take seconds to get your boiler back in working order. Do make sure though, that the water isn't boiling!
Low pressure in the central heating system
Boilers need sufficient pressure to enable the heated water to be forced around the central heating system.
When this gets too low, then the heated water can't get to the radiators or hot water outlets. But, before you call out an emergency boiler repair service, check your boiler manual because this is another of those heating repairs that you can fix yourself.
How to fix low-pressure problems
Many boilers can be topped up with water very easily. Once the pressure has increased, this simple repair will have your heating back up and running.
When do I need the assistance of an engineer?
There are a few more checks you can carry out before deciding if you need the help of engineers.
Is the gas working? Try other gas appliances
Is the electricity working? Check other appliances
Is there a water supply? Turn on the taps to check
Is the thermostat turned up to trigger the boiler to kick into action?
If these are all working and you've tried simple remedies described in your boiler handbook, then you will now need to get in touch with a gas safe registered engineer for help.
Do price repairs before making a decision on the next steps. If it's a big job for which you can't use, or have, cover for and need to use your own cash for the repair, it's worth looking at new boiler prices; that might be a better option.
How much will it cost to call out gas safe engineers?
There is a range of options for when you need boiler services, and each one comes with a different way of calculating the boiler repair costs.
Do be aware that costs can vary on where you live. So a boiler breakdown in London will be more expensive than fixing the same boiler issue elsewhere.
Manufacturer warranty
First, check whether your boiler is covered by the warranty. You'll find this information on the installation document and the service manual. The good news might be that you have cover for your repair costs.
Don't forget that you need evidence there's been a boiler service every year for the warranty to be valid.
Boiler cover
If you don't have a boiler warranty, then boiler care or cover plan can be a great option. This type of cover usually helps with all types of repairs, such as parts and labour, and often a 12-month annual service. That means that you can use them to take complete care of your boiler.
As this is insurance cover, do check that the Financial Conduct Authority regulates the company offering the boiler care plan.
Services for emergency callouts
If you need an emergency boiler repair, then there are companies that have a network of gas safe registered engineers to call on. Whether it's for your boiler or an aluminium bifold door, you always need emergency help if something goes wrong.
These services often promise to have someone out to your home and repair your heating services within 24 hours of being called.
Some even promote the fact that their team of engineers have a first visit fix rate of over 95%!
Don't forget to check out all the terms and conditions for the boiler repair service on the company's website. It's also a good idea to check online reviews on sites such as Trustpilot.
Fixed price services
One of the worries of needing an emergency boiler repair comes from the unknown factor when it comes to the cost.
That's when one of the fixed price services can provide peace of mind. The way that this type of boiler repair service operates is that you pay a fixed price for a one-off boiler repair and then the engineer visits your home.
If they're not able to carry out the boiler repair and get the heating working again for the customer, then they'll explain what the issue is and possible next steps. Most fixed price companies will also refund a percentage of the price paid if they don't successfully carry out the boiler repair.
Can I repair my own gas boiler?
When you're thinking about the boiler repair options available, you might be wondering if you could perhaps do a one-off boiler repair yourself to get the heating working.
However, you may find yourself in deep trouble as the law states that it's only a gas safe registered engineer who is authorised to work on a gas appliance.
These engineers, who are authorised and regulated to carry out boiler repairs, have undertaken extensive training to be a member of the gas safety register. You can then be confident in their ability to not only carry out boiler repairs in your home but to also do so to a high standard.
Boiler repair: our round-up
The time will come when repairing your boiler is just no longer viable. It might be that it's so old that the heating engineers can no longer get replacement parts.
Or, it could be that you have to keep calling out engineers and the boiler repair costs to get the heating working just keep stacking up. Maybe the repair options have now run out.
Whatever the reason for needing a new boiler, it's important to get a quote that includes the cost of both installation and a heating system that's going to meet the needs of your home.
To give you an idea of replacement costs we have loads of helpful information, including articles on Viessmann boiler prices and another for Worcester Bosch boiler prices.
But, if you're unsure of what boiler you want or need, why not let our team make a recommendation through our new boiler quote service.