Best Buy Online Boiler Company Reviews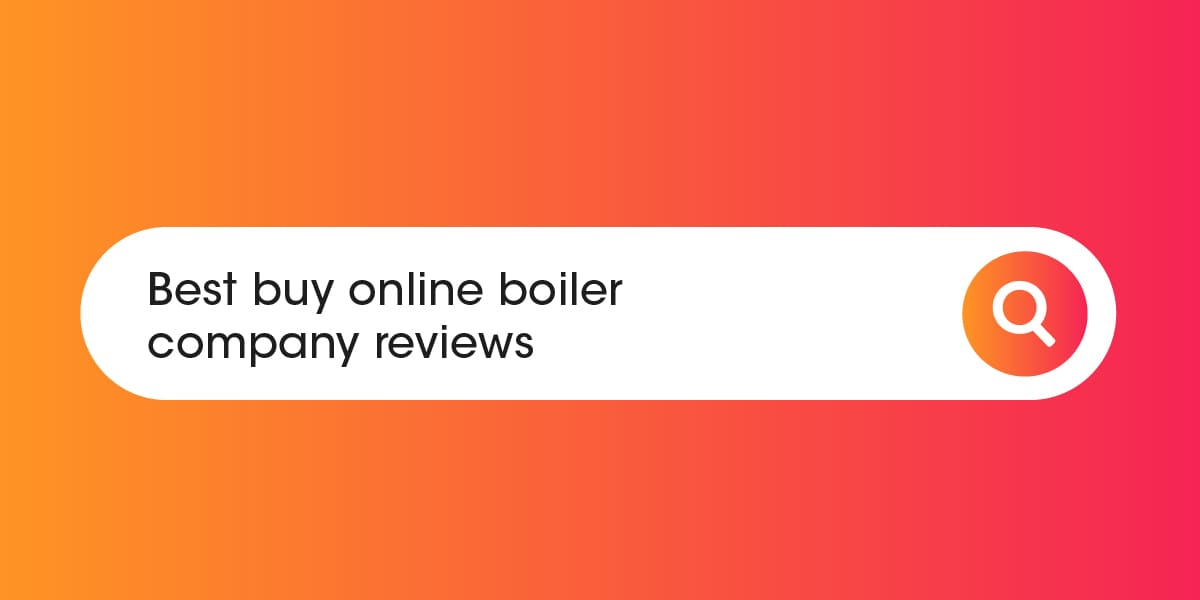 Which Is The Best Buy Online boiler Company Review
If you are unfortunate enough to need to replace your old boiler for a new one for whatever reason, then you may have come across a new type of boiler website. The type we are talking about are where you buy a boiler online and book someone to install it for you, all at a few clicks of your mouse.
In today's world of fast consumerism, simply choosing your desired boiler online and booking someone to come to your home and install it, potentially the next day, seems like a dream come true. Here we look at some of the new boiler installation companies offering up such services.
All of the following websites we look at have a very similar look and feel about the site. They will ask you a series of questions about your boiler, your home and other relevant information to help give you a fixed price for your boiler installation. In order for this to be accurate, you must be as truthful as possible with your answers.
Let's take a look at some of the best boiler buying sites at the moment offering quick, fixed price installation, all in the matter of minutes.
The number one recommended boiler company
A brand new company to the game.  is relatively new to the online buying game, but have been operating as a boiler installation company for years. Boiler Central's main difference between the online boiler companies is that they offer a wider range of replacement boilers.
A Wider range of boiler choice
Some of the sites we are going to look at will only provide you with the option of certain manufacturers, eg Worcester Bosch or Viessmann. Boiler Central, on the other hand, will provide you with super-competitive quotes from other top boiler manufacturers such as Ideal, Baxi, Glow Worm, Vokera & more.
Excellent online boiler installation information for customers
Sometimes there can be too much choice when it comes to buying a boiler but there is a wealth of information provided by the experts at Boiler Central for you to be able to make up your mind. This in part is helped by the questions asked prior to providing you with your online quotes.
The quickest online boiler installation survey questions
Boiler Central has the fewest questions asked to get a fixed online boiler installation price. Some of the other sites have what we feel are irrelevant questions. Boiler Central purely ask for the bare essentials which would affect any boiler costs and installation prices.
Low and competitive boiler prices
Compared to the other online boiler companies Compare Boiler Quotes offer some of the lowest prices for boiler replacement. Boiler Central come out best on prices for Viessmann boilers, which is great as the Viessmann boiler range is regarded as one of the best boiler manufacturers for the UK.
Boiler Finance option and an online booking system
Once you have chosen your boiler, you then have a great option to pay monthly for your new boiler. This means you can spread the cost with low monthly payments. With Boiler Central you can get accepted online through their site for any boiler on finance. Simply choose this option and then use the online booking system to arrange installation.
You may have to pay a small deposit to set up your boiler finance but you can get your boiler installed right away, and then pay it off over a number of years if you don't have the money right away.
All in all, we highly recommend Boiler Central for everything. From the ease of use right down to the important stuff, the price, they are a great choice for buying a boiler online.
Boxt – Growing too quickly? 
Boxt was the first company to offer the buy online boiler system. They have a super slick site that has been developed to offer everything you may need to get a brand new state of the art boiler installed. They have spent a small fortune on developing buy online boilers, and it is money well spent.
Boxt & Worcester Bosch
Boxt only sells Worcester Bosch boilers. This isn't a problem as Worcester Bosch make some of the best boilers on the UK market. Their Greenstar range has won prestigious awards in the boiler world. This partly due to them being a shareholder in the company, but you can guarantee you will get a great price on one.
Open costing and pricing of boilers online
As you use Boxt's online survey questionnaire it tells you how much that particular choice will cost you. If you need to move your boiler for example, it tells you it will cost you £300. This is great as it may help you decide whether or not you can afford to move your boiler, which unless you absolutely have to, will save you money.
Fast and reliable installation at competitive prices
Due to Boxt being the original and the biggest company on this list, you can guarantee they will provide you with a great, efficient and low cost replacement boiler. They have a full calendar where you can choose your installation date, even offering money off on certain dates.
Can't afford to pay for a boiler right away – choose their boiler finance option
A lot of people buy a boiler in a rush, mainly because the old one they have a broken boiler. No one plans to buy a new boiler, so if you don't have the cash right away like most people you can spread the cost with boiler finance.
Spreading the cost and getting accepted for a boiler on finance online
Boxt offers some fantastic pay monthly boiler options where you can go through the whole boiler buying process and any finance agreements online. This means you might not have to pay a thing, get your boiler installed, and then make sure you pay the monthly payments over the term you agreed online.
Boxt have got boiler buying online pretty much perfected. You can't go far wrong with a Worcester Bosch boiler either. If you decide to use Boxt you can expect a great service at a great price.
 Heatable – great online boiler buying experience
Heatable are the ones that took buying a boiler online to the next level. They have mastered simplicity and ingenuity when looking to get an ultra low-cost top of the range boiler installed. They really like the Viessmann range and offer these up as the ones to get installed for most people. This is great as the Viessmann Vitodens range is arguably the best boiler range on the market.
Simple steps amounting to low-cost boiler replacement
Heatable's online survey questions are simple, quick and easy to use. There is no mistaking what choices you are making which helps make sure you get a fixed price that's right for your home. One thing with Heatable is you will notice is they are super competitive on price, especially on the Viessmann boilers.
A wealth of boiler installers and great customer service
They have a huge amount of nationwide boiler installers at the ready to provide you with a great online boiler buying experience and aftercare. They have put the customer first with everything from their easy to use and understand website, right to ensure you get the best boiler replacement service on the market.
Pay monthly for your new boiler with Heatable
Heatable offers boiler finance so you can get that boiler you want right away. As with the other sites we have looked at, you can do it all online. Simply use their site to fill in your details and you can get accepted for finance right away and have your boiler installed in a matter of days.
In conclusion, all 3 have their pro's but Compare Boiler Quotes certainly tick all of the boxes and more, giving them a clear advantage for anyone who is looking to buy their new boiler online.
To get a fixed price online now from Compare Boiler Quotes, Click here